Responsive Display Ads- How responsive are they?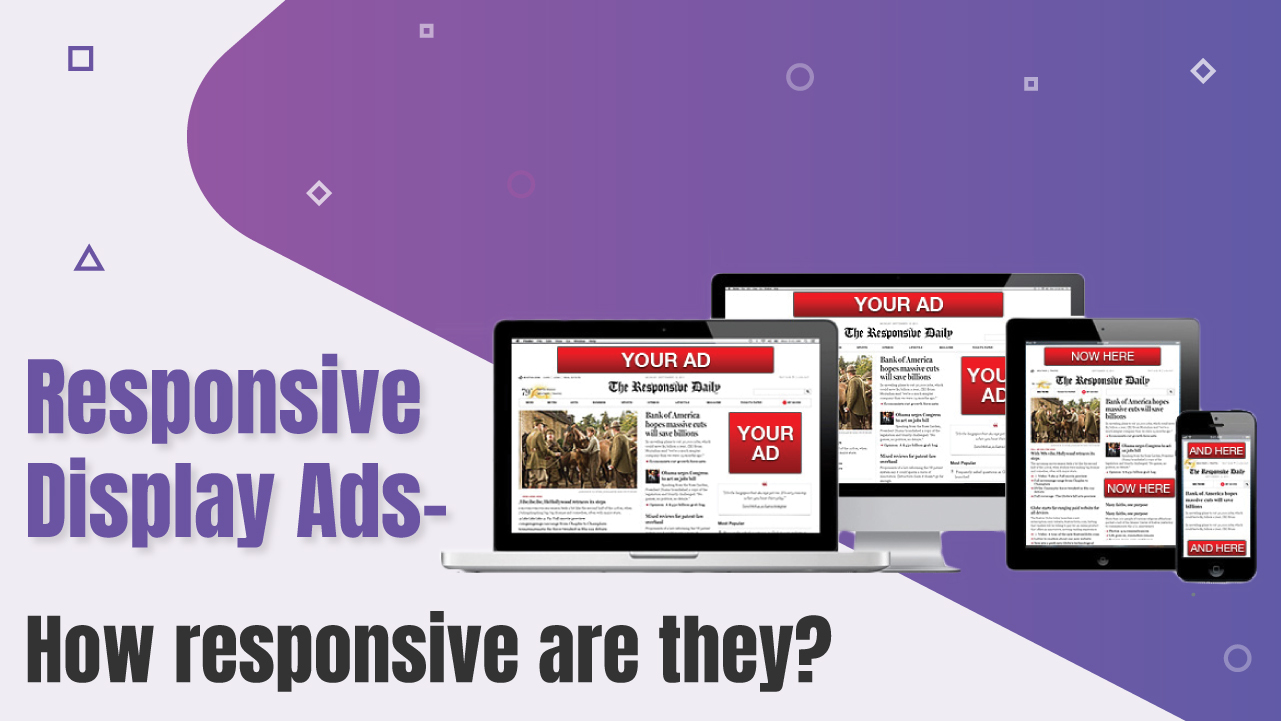 What is a Responsive Display Ad? 
Responsive Display Ad is created automatically by Google, which fits best in the available space on the Google Display Network. These can be used for both, regular display campaigns and smart display campaigns. Companies that do not have an in-house design team, and still want to run an ad campaign, engage themselves in responsive display ads. 
Best Practices: 
Design

: Focus on the individual elements to ensure the best possible effectiveness of the ad. Elements include headline, image, logo, business name, description, etc. 

Headline

: Images or videos can ditch on the search page result, but headlines always drive in clicks.

Previewing Ad

: Previewing the ad before going live would give you a glimpse of what the ad would look like. It is also shareable and thus can be shared around before it goes live. 
Benefits of Responsive Display Ad:
Fast & Effective

: It helps in making the digital marketing campaign easier, manageable, and effective. A normal bunch of display ads can be time-consuming as one needs to adjust image sizes in order to place the ad in the available space.     

Saves Times

: Responsive Display Ad is a perfect temporary solution when struck in a short deadline. Even a business with a dedicated designer team does think that

creating standard ads

is the hardest part of the process, as it takes up significant time for the designing team.    

Boost the Message

: With a Responsive Display Ad, one can produce highly adaptable, giving the opportunity to reach a larger audience base. It is always advisable to separate RDA from the other image-based ads to avoid unexpected marketing expenditure. 

Better Performance

: RDAs many times do perform better than standard display ads. These ads are used as dynamic remarketing campaigns by attaching themselves to the feed.  

Utilize Video Resources

: Practice adding videos in responsive display ads is more effective for advertising traction. Video can encourage engagement if used appropriately. Five videos of up to 30 seconds can be used from the youtube channel.  

Good source of traffic

: More the ad size, better the reach. This type of ad can fit within any available space. Thus RDAs are a good option for a campaign with goals of higher CTR and lower CPC.    
It is truly said a coin has two sides. Now let us see the downfalls of the responsive display ads: 
Display ads won't have any branding

: Google doesn't create different RDAs for different brands. And thus all the ad works will look the same, which can be a huge drawback when it comes to text ads, as it is very difficult to differentiate.   

Less control over the combination

: In RDAs, one cannot say which visual and text combination would be displayed. Sometimes the combination would not even make sense. 

Less insight on campaign performance

: The ad is run by Google for a limited amount of time and the optimal combination is determined by the algorithm. The ad is continued by Google based on the algorithm. Even though the performance of each asset is overviewed, the data segment is quite limited.   
The responsive ads are constructed by google automatically. All the advertiser needs to do is create a display campaign in a google ad account. Responsive ads have an edge by being simpler to create and making them easier to test. For mature brands, increasing conversions, control over creatives, and insight are a must. This is why RDAs are not the best option for them. Using display ads will save them from looking generic and also have effective use of asset combinations.  
We, as a digital marketing agency, bet on responsive display ads for the following reasons:
Highest CTR

: RDA gets a much higher click-through rate than an image ad, despite being less eye-catchy. Image ads may gain fewer clicks due to banner blindness.      

Lowest CPC

: Average CPC for image ads is 3.5 times higher than responsive display ads, despite the fact that ads were sharing the same maximum CPC bid.

Lowest CPA: Even though an image ad might have a higher conversion rate than a responsive ad, the cost per acquisition is much lower than that of an image ad.