Digital Marketing For The EdTech Industry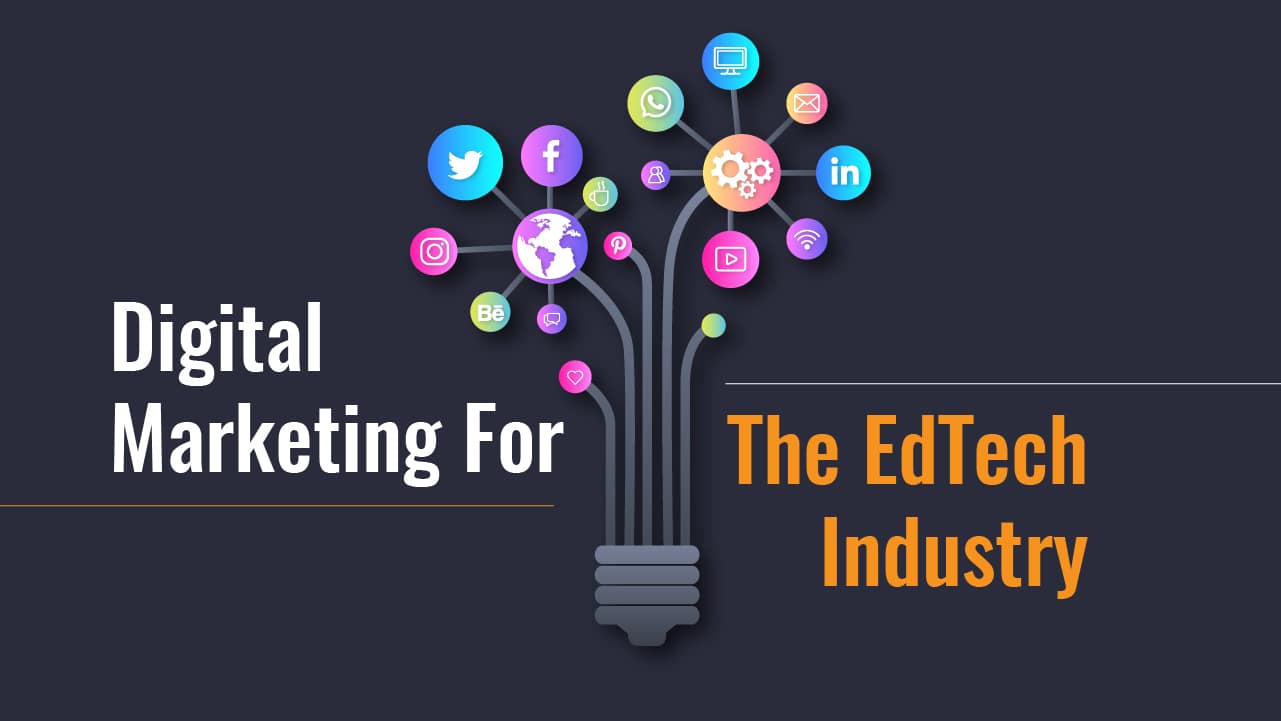 Education shifted from blackboards and books to tablets and mobiles. Advertising has shifted from masses to personalized. How far do these go hand-in-hand? How digital marketing transforms edtech advertising? 
Children of today not only use technology at a young age and also demonstrate competence with devices that many adults still find difficult to comprehend. They were raised in a setting from which they can not separate. By utilizing this once-in-a-lifetime opportunity, individuals might dramatically improve the caliber of their education. 
Using a conventional offline marketing plan in the internet era could be bad for your company. Your Edtech Company may interact with a broader target base thanks to digital marketing. Compared to offline marketing tactics, this is more economical and helps you develop your brand and advertise your company's services.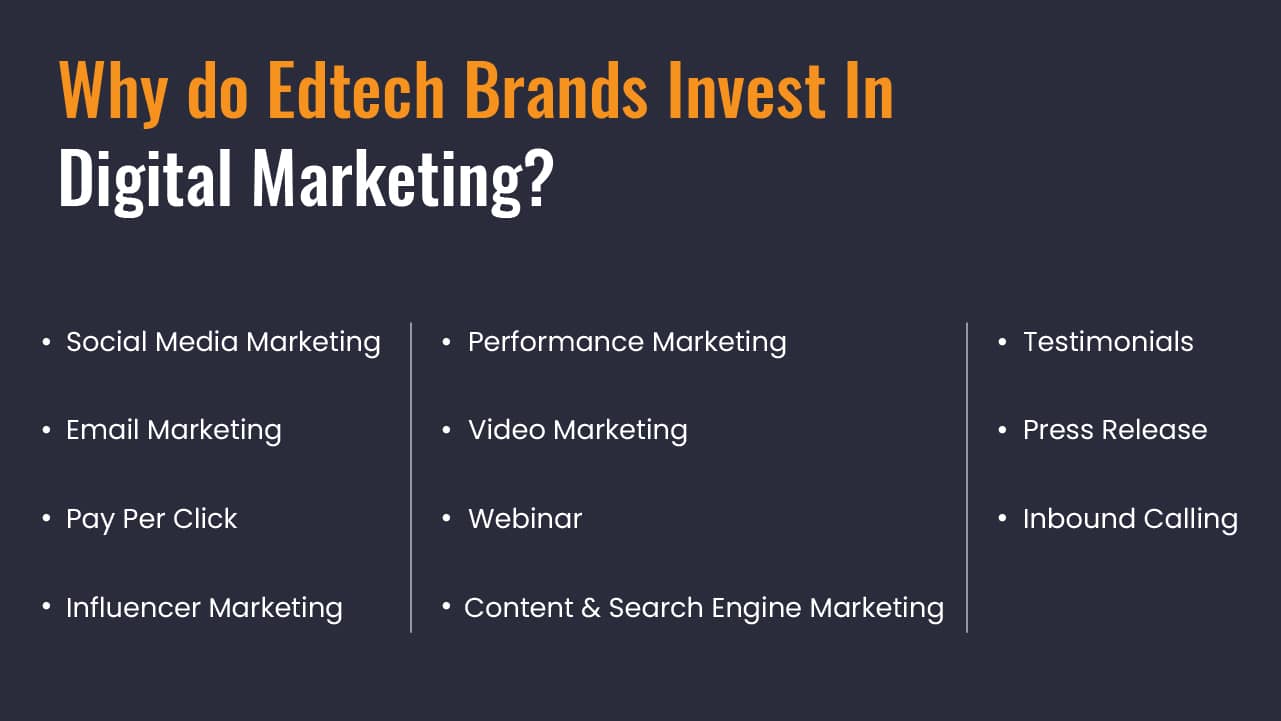 Why do Edtech Brands Invest In Digital Marketing?
The use of digital marketing in edtech is gradually replacing traditional marketing. The days of most parents, students, and teachers scouring newspaper classifieds or the yellow pages for educational institutions are long gone. The advantages of an edtech go-to-market strategy are numerous.
Better Conversions

:
Regardless of location, digital marketing for edtech companies gives a broad approach to the target market. With the ability to drive traffic and conversions, edtech companies may contact students on a larger number of channels, including banner ads, social media sites, emails, videos, and more.
Cost-effective:
It is more efficient and outperforms conventional advertising channels including TV, billboards, radio, fliers, and newspapers. Online edtech marketing strategies can increase conversion rates while costing much less.
Boost Credibility

:
More tailored information is pitched by edtech digital methods, which ultimately boosts qualified leads and conversions. A compelling call-to-action presents educational institutions with an opportunity to advertise their brands or increase signups/registrations.
Better Ranking

:
To better engage the target audience, edtech online marketing should focus on increasing social media presence. Retargeting tools can be used by advertisers to promote their services to potential customers who have demonstrated an interest in the brand.
Immediate Feedback:
Digital marketing for edtech can provide immediate feedback. On social media, one can quickly communicate with their target audience and record their answer. Based on the response, one can adjust their edtech marketing strategy and improve content quality. The digital marketing strategy for education technology offers a lot of room for innovation.
Being a leading digital marketing agency, we have curated the top digital marketing strategies to promote your edtech brand.
Let us start with the most popular digital marketing component. The majority of people nowadays, including educational institutions, are engaged on at least one social networking site, be it social sites like Instagram, or Facebook, knowledge sharing like Twitter, or professional networking sites like LinkedIn. As an edtech company, you must be cautious when deciding which marketing strategy to apply for each social media network. It is because each platform's demographics are unique, necessitating the creation of content to speak to the target audience. Social media is used in a variety of ways to advertise your company. You can ask students/parents to tag you in posts or stories they share about their experiences with you. 
Email Marketing:
The best approach to building a long-term relationship is frequent communication with them. With the rise of social media, many businesses frequently ignore the advantages of email marketing but a helpful tool for informing your clients about new goods, promotions, campaigns, and services you are offering. A suitable target market for email marketing is your present clientele, which consists of people who have used your products or services at least once in the past. 
Content & Search Engine Marketing:
In the education sector, specifically, content marketing is quite effective. Publishing articles that benefit potential customers can draw them to your blog regularly and persuade them to purchase. However, creating random irrelevant content won't help you increase targeted visitors. To increase traffic to your website, you must conduct adequate keyword research and optimize the content using carefully chosen keywords. By properly search engine optimizing your website, you can increase traffic to it and improve your website's rating for a variety of business-related keywords. The fact that this traffic is free to obtain and of higher quality will result in more conversions is of paramount importance. You must address various concerns on your website to make it search-engine friendly. Use comprehensive SEO audit, on-page, off-page, and technical SEO elements.  
Pay Per Click:
PPC advertising is a form of online marketing in which the advertiser, can place bids on highly relevant keywords for your website or company to rank higher in the sponsored links area that displays at the top of the search results page. When your website isn't generating enough leads organically, you may want to consider using pay-per-click marketing. The most well-known PPC advertising companies are those that use Google AdWords. Keep the target demographic for your brand in mind as you plan your digital marketing strategy employing PPC advertising, as well as the time and placement of your ads.
Performance Marketing:
A brand can be strengthened through performance marketing, which encourages consideration and conversion. It tries to boost a company's performance. Brands can monitor the whole click-to-convert journey with performance marketing for edtech and pinpoint areas where they should increase their investment. These crucial measures boost the performance of the company overall, whether it be through an increase in enrollments or ad views.
Video Marketing:
A powerful method of showcasing your goods and services to potential customers is through video marketing. Potential customers can learn more about your brand by watching video testimonials, explainers, and narrative videos. Additionally, video testimonials are essential for turning leads into consumers. These video testimonials can also be used on landing pages to demonstrate your accomplishment. Using live video streaming is another potent strategy for gaining new viewers. Go live often to show how your e-learning strategies will aid students in understanding the material quickly. They will become more familiar with your brand as they learn more about your products. 
Webinar:
An excellent option for your digital marketing strategies is a webinar. Share information with your target audience in real time by using webinar marketing. To increase registrations and sales for your EdTech product, collaborate with an influencer in your area. Depending on which option better meets the needs of your digital marketing tactics, you can organize a paid or free webinar. By interacting with your audience through webinar marketing, you can build a solid reputation in your industry and make it easier for people to remember you. You must begin by providing concrete advantages that your audience may use. A webinar that offers nothing in return will not have people wasting an hour or more of their lives on it. You should also make your presentation interesting. Your writing must be brief and direct. Then, if you have time, offer a Q&A session later rather than skipping it altogether. 
Influencer Marketing:
EdTech companies use influencer marketing, a fantastic technique, to increase sales and brand recognition. You can concentrate on education-focused influencer marketing while creating your brand from the beginning. An individual with a reputation in the education sector and typically with a particular specialization will be an education-focused social media influencer. Teachers, education, EdTech specialists, or social media content producers can all be considered education-focused influencers. The best location to identify people for your influencer marketing approach is without a doubt social media. The influencer's branding and messaging must coincide with yours; otherwise, you'll have wasted a lot of money.
Testimonials:
Testimonial videos are more likely to be believed by viewers than powerful corporate marketing videos. Both written and video reviews can be shared. Start compiling all of the complimentary remarks from your clients and publish them on your website, social media accounts, etc. You may even provide evidence of your work by including testimonials on landing pages for marketing campaigns.
Press Release:
Press releases are a public relations marketing strategy that boosts brand recognition and boost revenue. By disseminating information that influences how the public perceives your business and your EdTech brand, it aids in managing public sentiment. The procedure you should follow is press release dissemination. It occurs when you distribute or send press releases to journalists, publishers, and other members of the media with updates on the goods or services, projects, new acquisitions, structural changes, and other aspects of your business. Press release marketing is another name for this.
Inbound Calling:
Inbound call is the term used to describe phone calls that customers initiate to a company's customer care or support team. The team's call center or support desk answers these calls and serves to manage any inquiries, grievances, or requests. Responding to incoming calls is an essential procedure must include in your digital marketing strategies because doing so will improve the client experience. Waiting for the consumer to initiate contact is a component of an inbound telemarketing approach. While you view an advertisement, participate in a webinar, or use other marketing techniques, customers will engage with you. For the expansion of your EdTech business, this is one of the most crucial digital marketing techniques you should implement.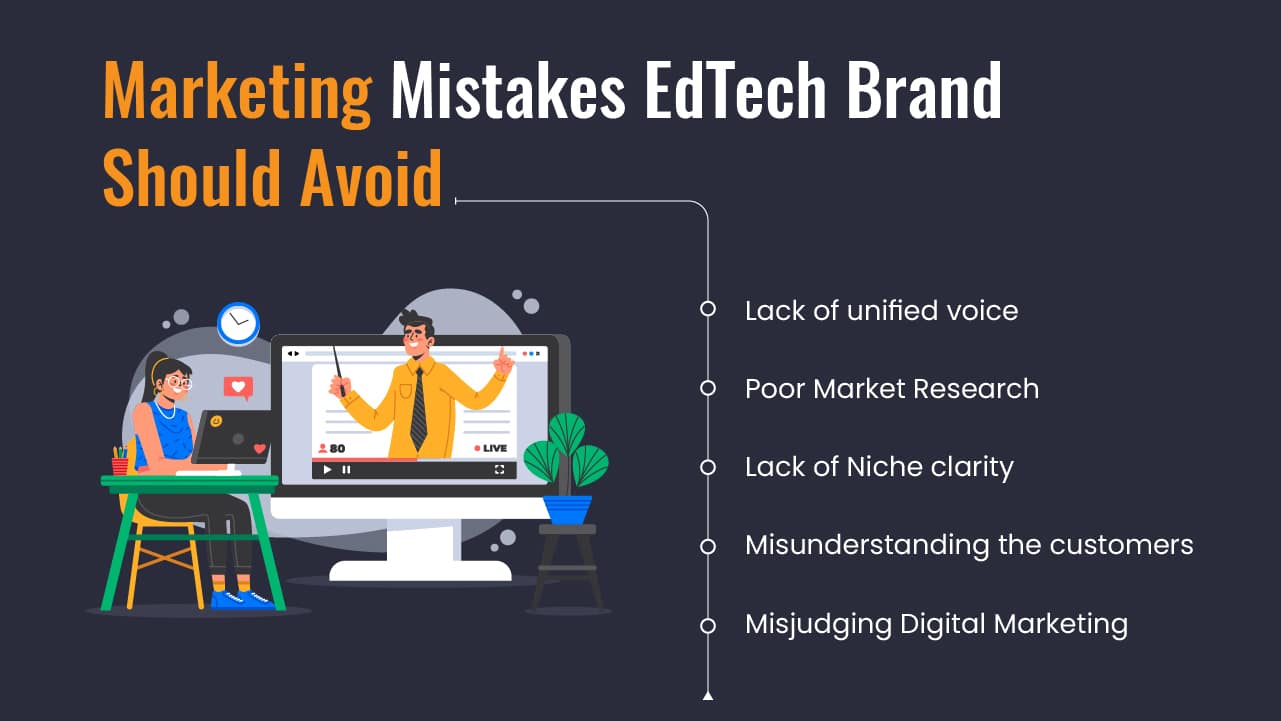 Marketing Mistakes EdTech Brand Should Avoid
For EdTech businesses to grow their customer base and boost revenue, digital marketing is a crucial component. However, it's simple to make a few significant mistakes that will later hinder this expansion. The top marketing errors EdTech firms should avoid are-
Lack of unified voice:
When it comes to audience targeting and product positioning, edtech enterprises must have a single, unambiguous objective. It is challenging for EdTech companies to communicate with potential customers from various backgrounds when their communications are fragmented targeted at different client segments, or centered upon an excessive number of values. For example, EdTech firm A has three value propositions: edutainment, edu-reality, and edu-game, while EdTech company B targets three sorts of learners: those who like group work, those who prefer reading books, and those who prefer working alone.
Poor Market Research:
Teachers, students, parents, and other stakeholders play a role in the EdTech sector ecosystem. An EdTech marketing strategy must include market research to understand everyone's needs. In EdTech, focusing on a traditional textbook approach is unhelpful. The purchase cycle may or may not be defined by an SMB vs. conventional enterprise or B2C funnel delineation vs. B2B comparison.
Lack of Niche clarity:
There are distinct niches in K–12, higher education, and college education. A single product would seem practical for everyone, but it would always be deficient in some way. Additionally, perceiving their sales cycles as coherent will probably result in a marketing team adopting B2C funnel methods to B2B practices or vice versa because the budgeting and buying processes are different. The enterprise dream in edtech is genuine and attainable, but it's also transient and catastrophic. Due to the vast differences in workflows and use cases between private firms and schools, a product runs the danger of losing value across all industries. Also, it can damage the base of potential customers by wrongly marketing the product as one-size-fits-all.
Misunderstanding the customers:
An EdTech company frequently misleads potential customers by marketing the incorrect strategy to them. Simply put, if you don't consider the input of the end-user, the decision-maker might not turn into a buyer. The student's feedback and the confidence of parents and instructors in your product will set the foundation for future PR and Brand creation, leading to more active users and renewals.
Misjudging Digital Marketing:
Since word-of-mouth is the main method of promoting EdTech, it would be a grave error to underestimate the power of social media influencers and the EdTech community. The best course of action might be an authentic, unscripted campaign. Instead of giving sales pitches and displaying figure/data graphs, use digital marketing to develop a brand story and product testimonial.
The majority of conventional marketing strategies either sound like sales pitches or require a complex setup to sound educational. Young people lack both the patience and attention span necessary to go through an infomercial. They seek information in the form of pertinent and interesting material that will help them make decisions.
While you are now convinced about how important digital marketing is for your edtech brand, who will do it for you?  With Ideatick, you get a helping hand to guide you through all the possible digital channels to reach your target audience and expand yourself profitably.  We are a call away, but we would love it if you go through our success stories in the Edtech industries. We take pride in calling ourselves a top-rated digital marketing company in Vadodara.