Best Social Media Practices to Help You Write Better Content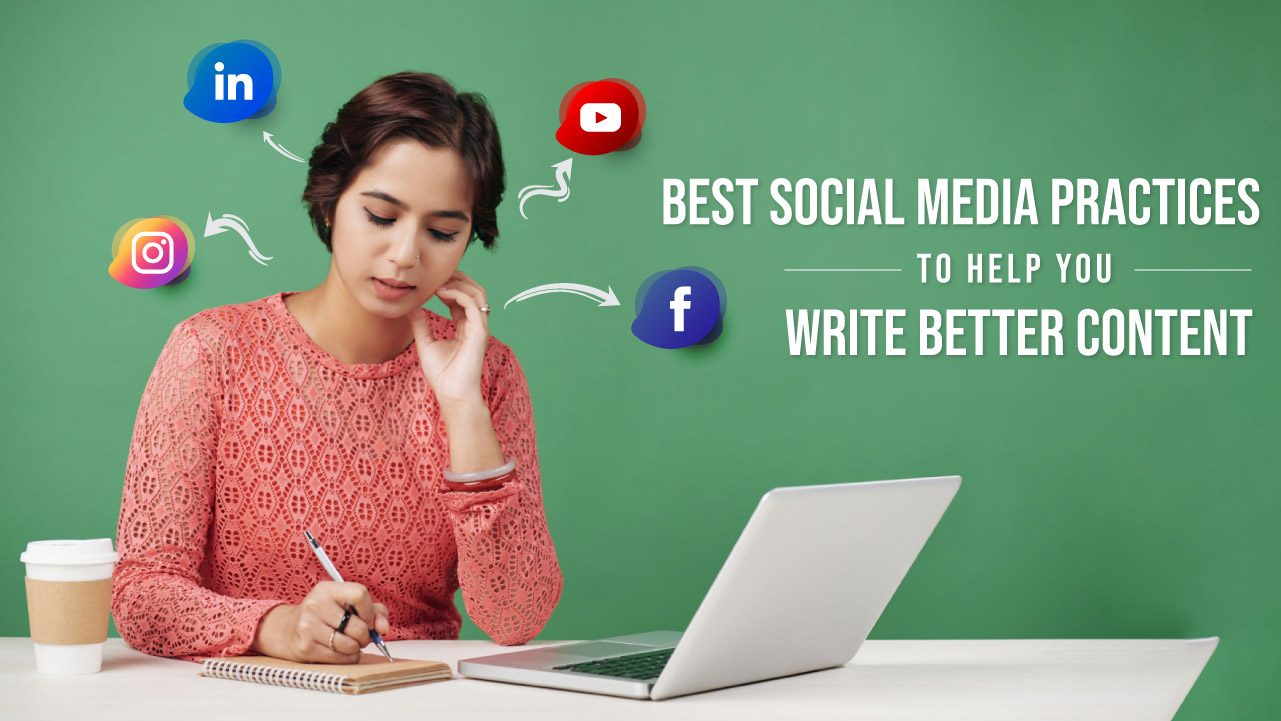 Selling on social media requires strong writing. But not everyone is well versed in quality writing. Remember that everything you post reflects your brand. If the social media looks sloppy, then the customer might consider your brand to be sloppy too. 
This is why it is important to write well on social media. It requires a command over the language, presence of mind, an eye for the latest trends, and a pinch of quirkiness. Bringing in the message, while retaining the brand essence and still keeping the content short & crispy is the biggest challenge in social media content writing.  
With the increasing number of social media platforms, the complexity of the work also increases. Every platform requires unique content. What might work on Facebook, holds no guarantee to work on Instagram. This makes mastering the skill difficult. And that's exactly why we wrote this post.
How to write better social media content?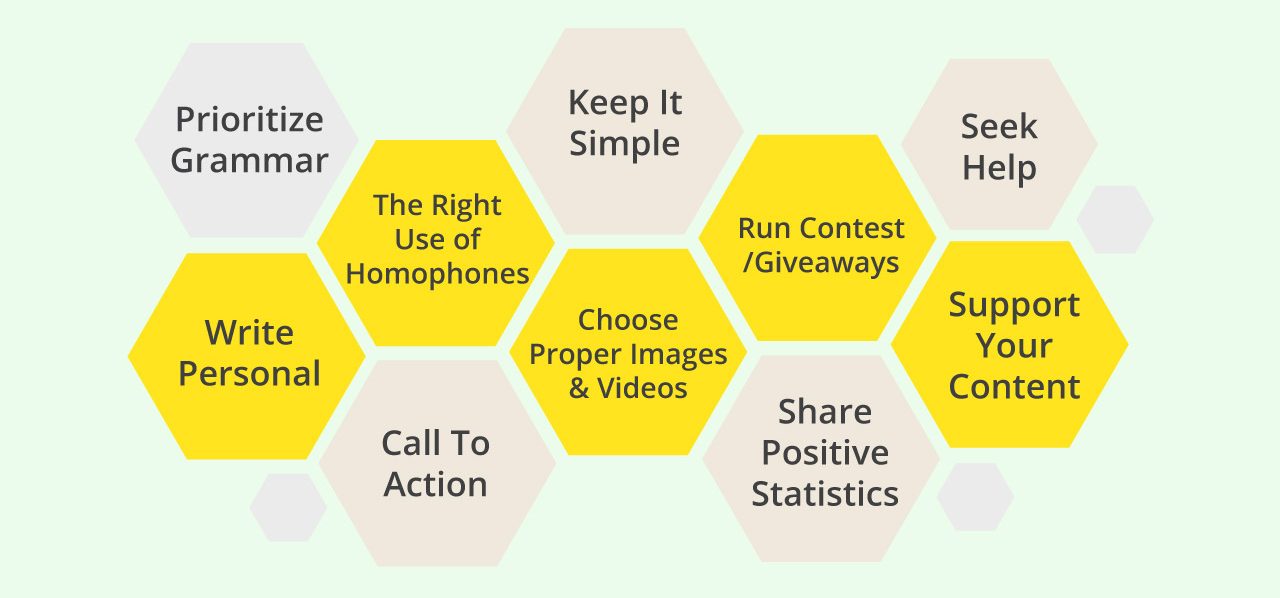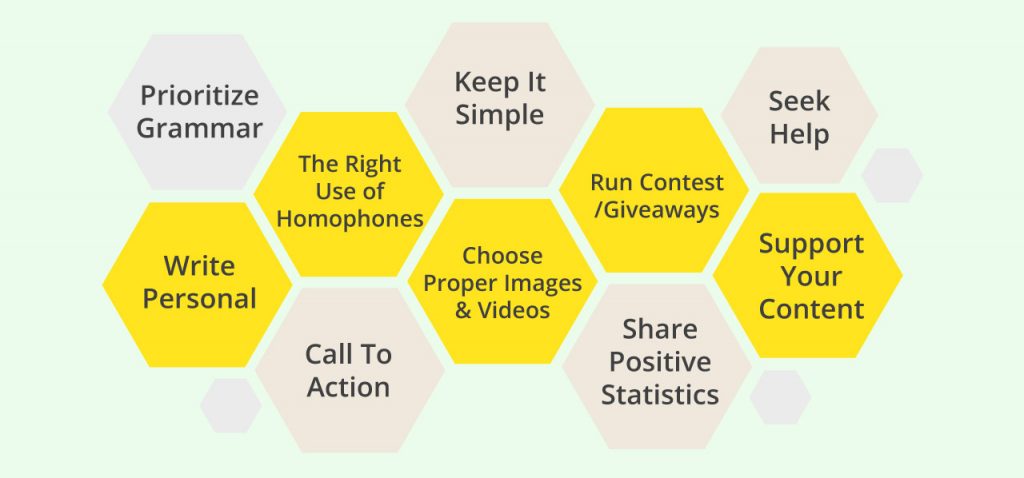 Prioritize Grammar:

Even though social media platforms are a little less formal, it doesn't mean it entertains bad grammar. Good grammar portrays your care about the reading experience of your customer. 

Write Personal: Focus on using pronouns like "we" "I," "me," and "you" rather than "the company," "the client," or "the team." While trying to build connections and engagement, lecturing the audience from a high corporate tower just doesn't interest them. Make the team understand why an informal language works better on social media, and try to tailor the style per the needs of the social media.  
The right use of homophones

: Homophones are words with a similar sound but different spelling. Spell check is a major help, but homophones are easy to miss. Thus ensure to give your copy thorough proofreading to weed out any possible errors.        

Keep it simple

: Social media isn't the place for sharing a detailed discussion, case studies, or success journey. These social media platforms do have a limited word count. In case you are linking a lengthy article, simply introduce it with a crisp brief. The use of emojis illustrates the point is advisable. Use fewer words as a teaser to the content.

Call to Action

: A CTA is something that is not optional but acts as a constant promotion. The ultimate goal of your posting is to make the followers take action. Try including a provoking question or invitation which will make them indulge in a conversation.    

Share Positive Statistics

: Viewers will appreciate positive news & statistics. Create a positive image of your brand and throw performance statistics on social media. Positive statistics bring in more trust and engagement.  

Choose proper images & videos

: Visual content tends to be more appealing and engaging when compared to textual content. In fact, visual content can also be used as a stand-alone post to convey the message. Try to optimize each visual content for the platform to ensure the message is being shared and looks professional.

Run contest/ giveaways

: Free gifts are still undoubtedly the best way to connect with the audience. It not only drives people to interact with the content but will also fetch a higher engagement. When people are offered freebies, they tend to remember the brand for a long time.  

Seek help

: You are never alone. It is always ok to take an aid from online tools to ensure that the posts are grammatically correct and proofread properly. As many of these tools are available for free, they become an inexpensive way to ensure the quality of the blogs. Some of the best tools to use are Academized, Cite It In, Paper Fellows, After The Deadlines, etc. 

Support your content

: One of the most important steps is backing up the content with the source. Using sources will also slowly grow the SEO results, as readers might land through these sources. Citing the sources gives more credibility, and keeps the content above board as a writer and as a company.
Conclusion:
Social media posts are much more than merely converting your thoughts to visuals. It requires quite a lot of proofreading and citation. It's never 'just' social media but a connecting passage between the brand and the audience.     
That's why social media writing has to be at its best. With these writing tips, you'll be a step closer to leveling up on the competition online.