Improve Your Company's Effectiveness on LinkedIn
Many businesses miss out on uncountable opportunities by not having a presence on LinkedIn. LinkedIn is a social networking site that may be utilized to develop consumer relationships and brand exposure. You can do a lot with LinkedIn, making it a great addition to your digital marketing plan. These include connecting with people and creating relationships, generating leads, and increasing brand awareness, among other things.
LinkedIn isn't just for job seekers and professionals. LinkedIn is used daily by millions of people to expand their networks and careers, but you can also use it to expand your business. Using this social media platform, you and your company are exposed to millions of connections, which you may utilize to develop connections with people and other businesses to strengthen your brand. LinkedIn is primarily a social network for professionals. It's all about professional relationships, industry conversations, and other business-related events for career growth. On LinkedIn, you may find partners, new employees, and new clients.
Being the top social media marketing agency, here are a few tips and tricks recommended by our expert team to improve the effectiveness of your company's LinkedIn page.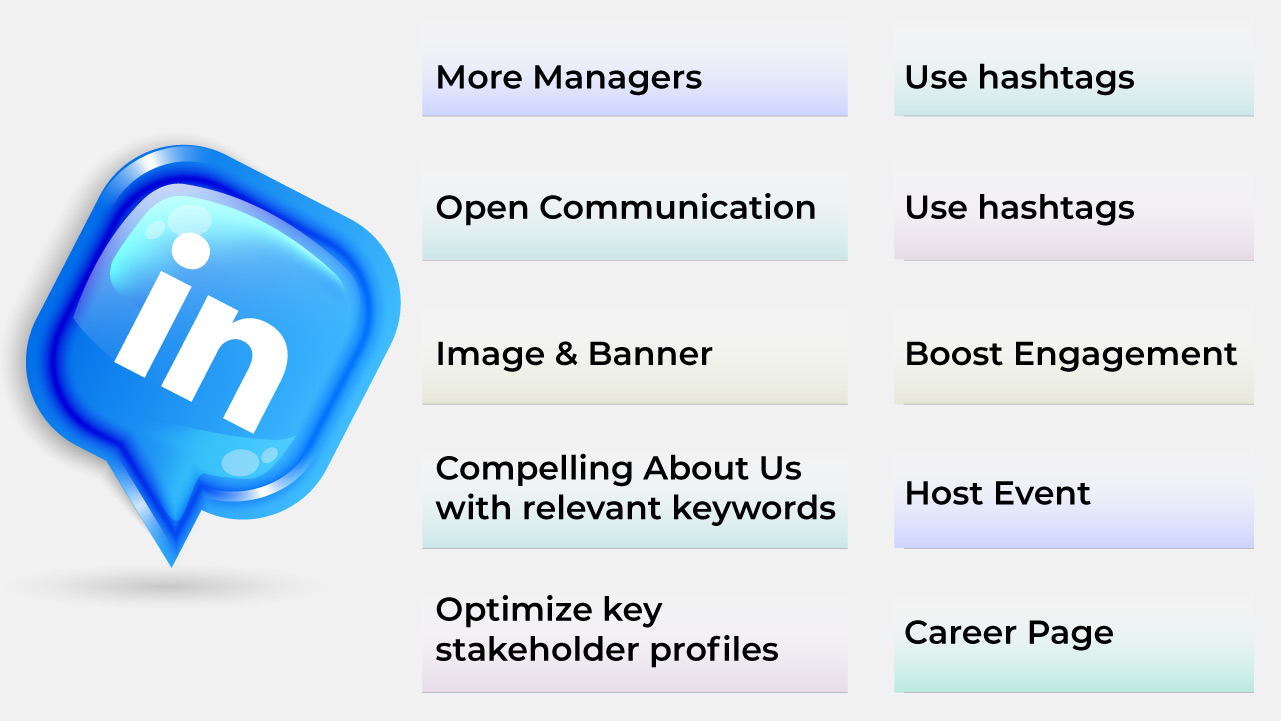 More Managers: It makes sense to vary your staff and include a range of page managers that can ask their contacts to subscribe to your corporate page because LinkedIn is all about networking and connections. It takes a lot of time and effort to manage your company's social media accounts, especially if you have several. Making a small team eases the workload and enables others to contribute fresh perspectives on company news. Different admin roles and permissions are available on LinkedIn so that you can grant your team members the access they require.
Open Communication: You're already headed in the correct direction if your organization has an "open door policy." Just like us. Although this is a terrific beginning, consider going even further. Open-door policies far too frequently become ineffective, little-used clauses in employee handbooks. On the first day of work, these are usually at most skimmed. Establish a genuine culture of open communication, and productivity will rise as a result of a happier workplace atmosphere. Encourage departmental collaboration, communication, and feedback as well as management and employee interaction. As a result, the team will be more creative and productive as a whole.
Image & Banner: Make a good first impression with the image/banner because individuals searching for your firm on LinkedIn will first them. Six times more people browse company pages with profile photographs than without. It's simple to select a LinkedIn profile image: simply resize your company's logo, which you already use on other social media platforms, to meet the platform's specifications. There are no strict guidelines for how to use the profile banner that is located above your company logo, so there is a little more opportunity for creativity (other than some sizing requirements).
Compelling About Us with relevant keywords: The "About Us" section on your company page should be a succinct paragraph of 2,000 characters or less that provides visitors with all the information they require about your business. Outline your business objectives in plain terms that anybody can understand by using clear, accessible language influenced by keyword research. In the end, you want the About Us page to communicate the story of your business and make customers understand the worth of your goods or services. The About Us section of your company page should address six fundamental questions, just like your other social media pages, though adjusted for a company and not you personally.
Optimize key stakeholder profiles: The social media strategy for your business should place a strong emphasis on stakeholder participation. They aid in influencing, winning over, and gaining total support for the business and your brand. These can include internal stakeholders like investors and employees as well as external stakeholders like a board of directors, partners, and clients. They should be included in the content generation process to ensure authenticity. Make sure the information they are sharing is per the objectives of your business to optimize their profiles.
Career Page: According to Glassdoor, 69% of job searchers are more likely to apply to an organization that actively promotes its culture online, and according to LinkedIn, prospects are 1.8 times more likely to apply for a job if they are familiar with the organization. Although this is a premium tool, LinkedIn Career Pages are a fantastic way to support your recruitment efforts by showcasing your company culture in its finest light. 
Host Event: You can create a native event landing page using LinkedIn's virtual event promotion tools, share virtual events with ease with your followers, and maximize promotion with eye-catching call-to-action buttons and banners. Attendees get notifications and a confirmation email before the event. It is simple to communicate with viewers throughout the event using the Livestream chat. Additionally, LinkedIn enables you to share stream highlights via the Company Page's video page following the event.
Boost Engagement: Give credit where credit is due, including by mentioning brands in the pertinent content on your page. LinkedIn is a great place to acknowledge and thank staff members who have contributed significantly to your company. A flood of likes, shares, and comments typically follows. Many businesses will appreciate you for acknowledging their efforts and thank you in return by tagging you in their postings, so it won't go ignored.
Use hashtags: Thanks to how the LinkedIn algorithm works, hashtags help you expand your audience and enable you to share information effectively. When you publish a post on LinkedIn, the algorithm displays it to those who it predicts will be interested in it. Up to three hashtags can be linked to a LinkedIn Page. Although there have been issues with hashtags on LinkedIn, they are now functional. It's a smart idea to list the three most effective hashtags on your Page. Your most recent post will show up on the timelines of your followers, particularly if they have interacted with your past content.
Use Content Suggestions: The greatest B2B social media accounts distribute content from other sources as well. They also distribute content from other sources, such as articles, research studies, and other valuable materials that their audience may find helpful. Numerous content curation tools are available to make it simple for you to locate outstanding information to share. LinkedIn is now providing another choice. You can use "Content Suggestions" as a content curation tool from within your LinkedIn Page. Filters in content suggestions make it more practical than many other content curation systems. You may filter content, for example, by country, industry, and what users with various levels of seniority are sharing. Even a little bit of extra content could be added to your email newsletter using Content Suggestions.
With some much in your basket already, maintaining a consistent LinkedIn posting can get tedious. How about having someone who would ease the process for you? Get in touch with us & put off your LinkedIn worries away. Call us at 9979738578 or drop us a mail at info@ideatick.com 
With more than 700 million users worldwide, LinkedIn has developed into an effective marketing tool. There isn't a single social media site that even comes close to LinkedIn when it comes to taking up space on your devices! Using LinkedIn is a crucial component of becoming a full-fledged professional in any business today, from maintaining your brand to generating quality leads. Business Insider named LinkedIn the most reliable social networking site. More and more people are using the platform to discover and distribute high-quality material that is regarded as important and honest. Just a few of the benefits of setting up your own LinkedIn profile and beginning your professional network are listed above. Cheers to networking!