L&D – Addressing the needs of tomorrow: Introduction, Process, Challenges & Solutions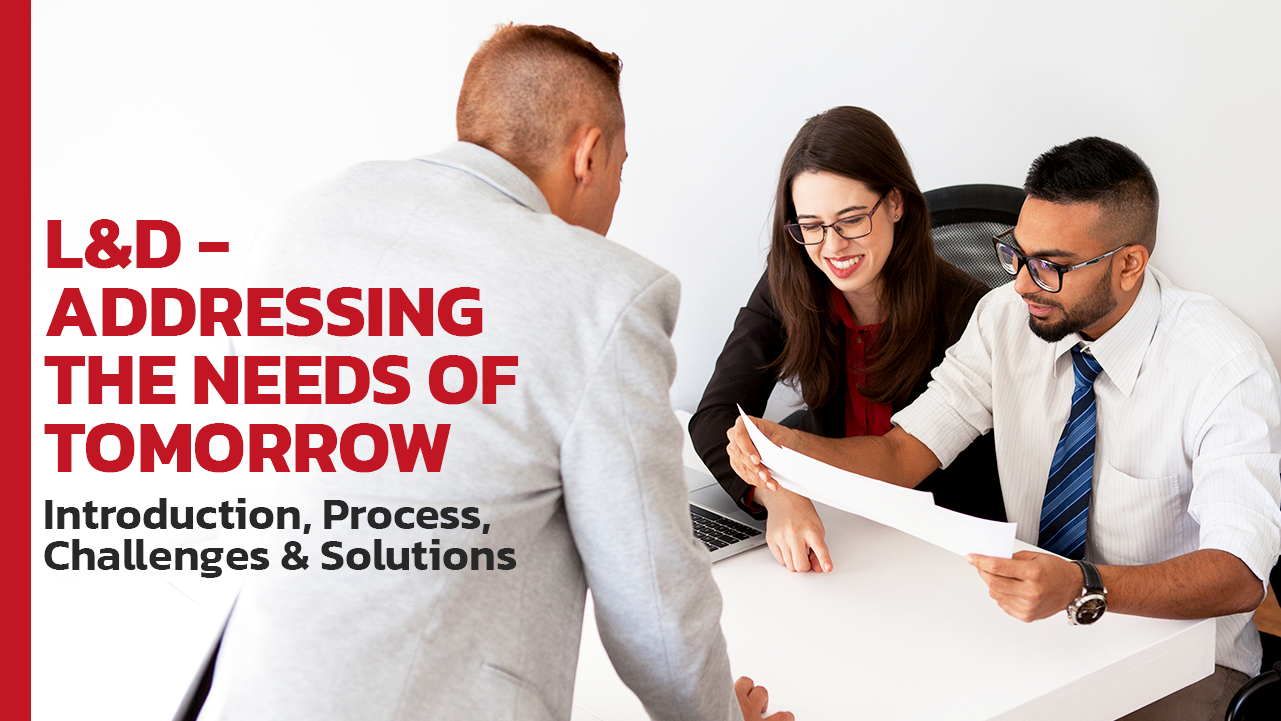 Before understanding the buzz about L&D, let us learn what this abbreviation stands for. L & D stands for LEARNING & DEVELOPMENT- one of the main responsibilities of HR. 
L & D is the process focused on empowering employees with specific skill sets to aid them to enhance their performance. This can include either reskilling them to take on a new role or upskilling them to perform better.  Is it all about Performance? No. Improvised performance is one of the expected outcomes of this process, along with several others like filling skill gaps, retention, future-proofing, internal hiring, employee satisfaction, enhancing experience, etc. L & D is a vast that has no end. This vast concept can be summarized into 3 focused smaller concepts- 
Upskilling 

Leadership Management  

Onboarding 
Objective:
How you plan your learning and development program depends on your objective, which depends on the nature of the business. However, all the possible objectives can be broadly classified under 4 major categories:
Business Performance:

The ultimate purpose of spending time and money on such L & D programs is to get an uptick in the overall business performance. For an organization, the improved quality output is the desired outcome of any L & D session. Simply put, companies train their employees to make them better at their job and set higher work standards. The major business expectation revolves around increased work volume, incline in customer satisfaction, and gaining more work opportunities. 

Work Place satisfaction

: When the organization supports employees in learning and growth opportunities, they tend to value their work and stay with the company for a longer tenure. When the objective behind the L & D program is employee satisfaction, it should focus on:

Retention Rate

Improve knowledge skills

Reduce Employee turnover

Reduce employee stress

Rise in confidence
Branding: One of the most important objectives of learning and development is employer branding.  Making the organization "improvement-focused" will help the hiring team to attract more talent. It will also retain the employee as the company will help their career and long-term growth, thus fueling a sense of loyalty.  The top preferred FAAG companies are also investing heavily in employee development and thus directly linking their value proposition in the market. When the L & D program is inclined toward employer branding, it focuses more on: 

Quick fill of job roles

Reduced hiring cost

Quality hire

Internal promotion

Employee self-realization

: With the change in work concept, employees are inclined towards a holistic job approach where they evaluate work by tangible components like compensations. One such evaluating factor is learning opportunities. With the help of L & D, an employee can tap into their full potential and attain a sense of self-actualization. The result is not restricted to the employee, but also beneficial for the employer. While developing an employee-centric learning program, it is important to consider the following:

Individual's ability to attain a personal improvement goal

Better work-life balance

Increase employability

Robust skills

Drive a sense of job security

Identify the hidden leadership potential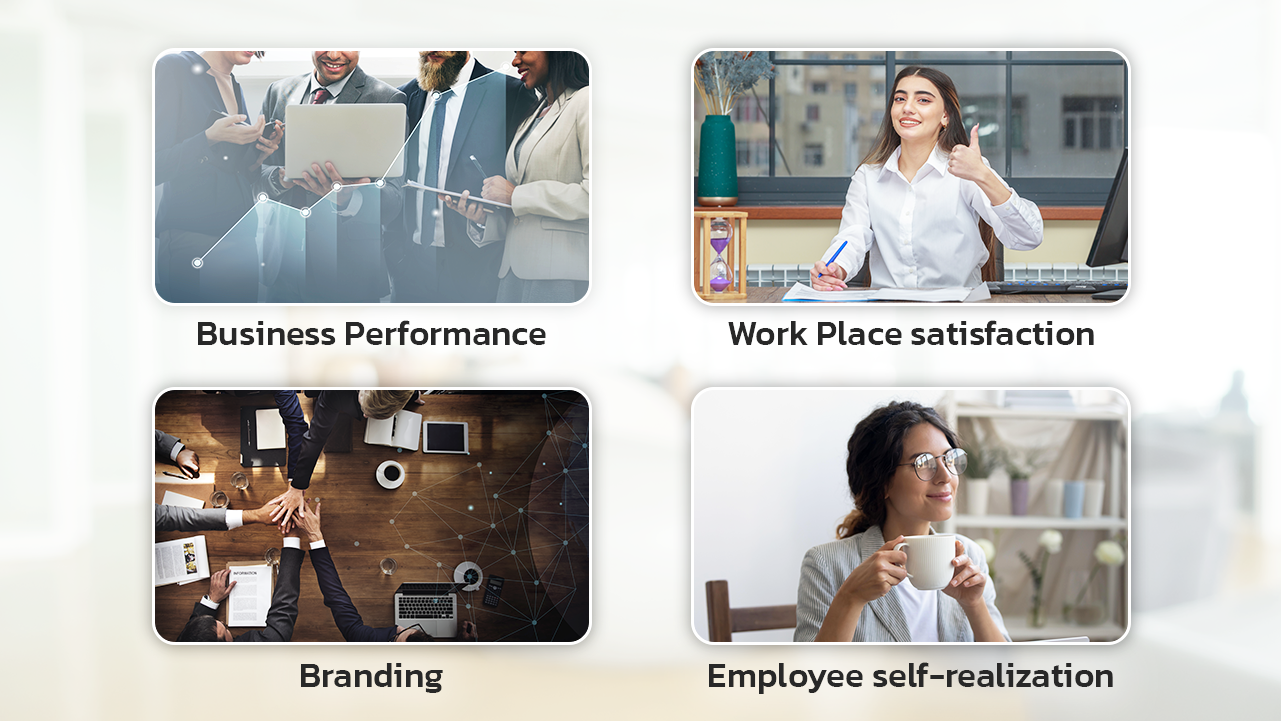 L & D Process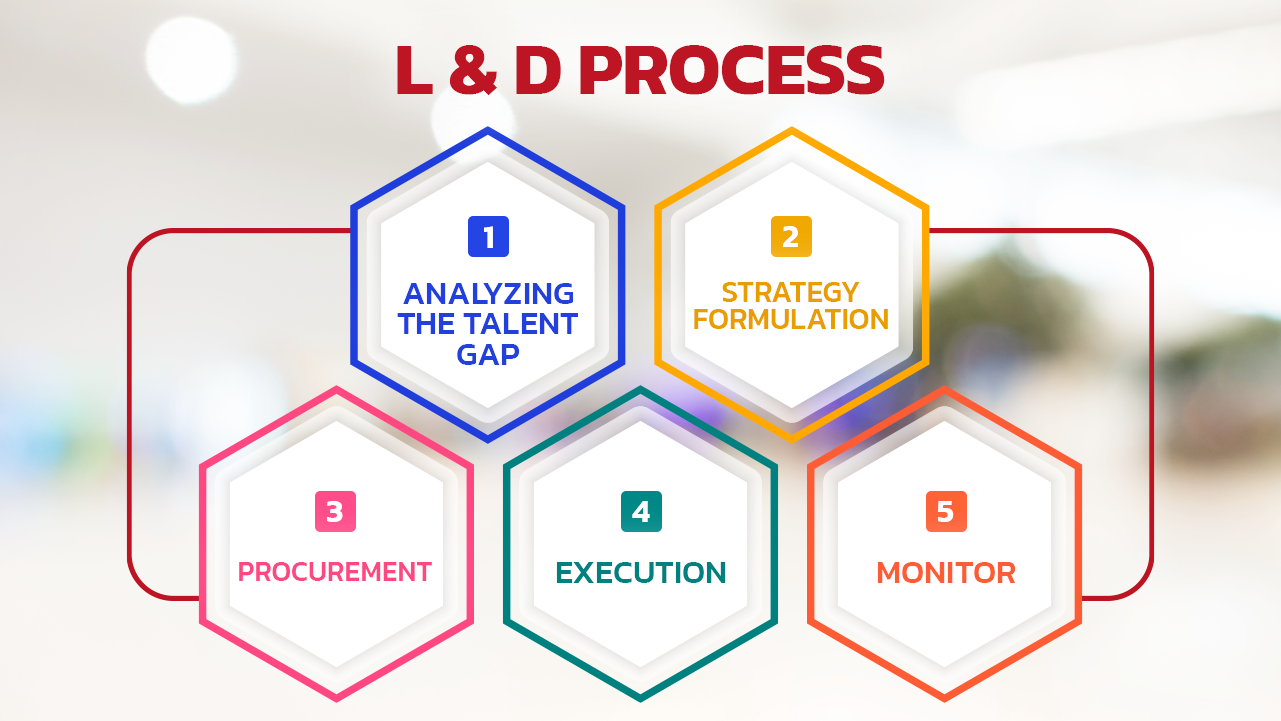 L & D is a type of training that beings with individual training sessions, and continues forever. The whole process can be broken down into five stages, each guiding to the successor step and reflecting the previous strategies. Let's have a clear understanding of the steps involved.            
Analyzing the talent gap

: Study the current talent-bar, and note down the skill shortage, improvement possibilities, and potential opportunities. 
Strategy Formulation

: Classifies the L & D components based on their needs for hands-on training, executive coaching, mentorship, continuous learning, etc.       
Procurement:

Coordinate with internal and external L & D providers and strengthen partnerships with consultants, coaches, technologies, etc. 
Execution:

Implement the strategizes by establishing an ecosystem of learning partners, technologies, and employees. 
Monitor:

Monitor the success against the initial gap and performance post the L & D program sessions.   
By following these steps, you can make the most of the L & D program. Isn't that the goal? Align the process by considering factors like budget, timeline, talent development, etc. The last step can be said to be the most crucial one while determining the program's success. It reveals the performance indicator expectations which need to be realigned with the L & D components and the required investment for the next learning cycle.   
Challenges with Learning & Development 
Many companies can not afford to have a specialized L & D team that deals with the pressure of upskilling the existing talents. Apart from this, the recent encounter with the global pandemic, surrounded by uncertainty the department transformed digitally. Every organization has its own set of learning & development challenges over time. Here are the biggest challenges in L & D which continue to vex the department.             
1. Limited budget: Big than the biggest challenge is having a very limited budget to deliver the learning and development program to eager learners. Companies are shifting their funds to digital transformation rather than spending them on recruiting effects or skill development programs. This has forced the L & D team to manage with whatever they can get their hands on, thus resulting in doing more with less. With more technical exposure, the learning and development team come up with many low-cost employee training solutions to meet the ongoing needs. Here's how L & D team can do more with less:      
Knowledge sharing sessions 

Self-directed learning 

Government agencies that help free training 

Peer Mentorship  

Cross training option
2. Leadership: 'Leaders are born and not made.' This statement is as very subjective and no one can ever answer if leadership trait is an inborn skill or a situational skill. With such a challenge, it becomes quite difficult for the organization to cater for the right L & D session. An organization aims to build leaders at every level- from the entry-level to the way up to the CEO. This ensures success in the long run.  According to the article- The essential components of a successful L&D strategy by Mc Kinsey, businesses are 2.4 times closer to achieving their performance goals by investing in leadership development. L & D team can support building leadership by:   
Understanding the leader's competencies and the business needs to set up strategically planned people goals.

Identifying the interest of potential leaders and providing them with improvement opportunities.

Planning a customized leadership development journey 

Reaching out to the business leaders and creating a leadership roadmap to entail the people with long and short-term goals. 
3. Consistency: Delivering consistent learning becomes a difficult task in the absence of a dedicated L & D team. Even when a dedicated team is present, it becomes hard to maintain consistency, when the employees are already burdened with work and deadlines. Other factors which hamper the consistency includes location limitation, high cost, language, virtual needs, etc. To improvise consistency, an organization can focus on: 
Communicating across different media forms

Provide training opportunities driven by the audience's needs

Real-time feedback

Promote authenticity via open disclosure 

Schedule sessions on consistent internal based on both parties' conveniences.       
4. Skill Application Tracking: To have a continuous L & D training program, it is important to ensure that skills learned are applied and result in quality improvement. Thus it is important to establish a skill application-based assignment where the trainee gets an opportunity to apply their learnings directly to the projects. This can be monitored with a predefined timeline. This will keep the employees more engaged during the training sessions and makes them more accountable for their actions. If the initial project fetches positive results, go ahead with another assignment. With immediate skill applications, the knowledge stays fresh and relevant.     
5. Varied Audience: Learning and development training is always delivered to a diverse workforce. In such cases, it is very essential to take into consideration the needs, learning expectations, experience, etc, when planning a program. Plan, develop, and deliver a learning experience that keeps them all engaged. Here are a few ways you can ensure better engagement during your L & D sessions: 
Understand the training goals from employees' perspective & align them with the company's expectations. 

Conduct focus groups or 1:1 group discussions with the trainees to get a better idea of their needs.  

Design a learning program that aligns with the employee & employer both. 

Try to indulge diverse experiences & perspectives amongst the team in the learning session. 
6. Global Employee Development: When it comes to scaling global employee development, the challenges are not only about implementing a new process or system. It is also about understanding how to change the way people work, think and collaborate. The implementation of an L&D strategy needs to be aligned with the company's overall business strategy and culture change should be considered an integral part of this process. This will require leadership commitment as well as a clear strategic plan for change.
Today, a company's market worth is largely decided by the caliber of its leadership and the skill level of its workforce. Employees rarely see the importance of training and have resisted taking part in sessions at workplaces where it is viewed as a luxury item. By assisting the company in expanding and strengthening its position in the market, employees hope to recoup their initial investment. However, everyone benefits when learning and development is a deliberate, integrated, and essential investment for the organization. Organizations that have effectively communicated their direction, and goals, and enabled leadership at the front lines have had higher success. 
A strong employee voice is important, along with having a solid strategy in place. We have found that employees are only motivated to stay on the job if they believe their contributions matter, that the company cares about them, that upscaling is happening, and that they are aligned through efficient goal setting. Investing in personnel has two potential effects, one of which helps measure loyalty and ensures a quality commitment to both external and internal stakeholders, which is necessary for a firm to remain relevant.
The employee must continually reskill and upskill to remain competitive in this shift to a knowledge-based, digital-first economy. Because of these trends, businesses are giving the learning and development function more thought and money. In conclusion, learning and development are crucial to every organization. Both the corporation and the employees directly benefit from it. Investing in learning and development activities not only helps employees grow and stay up with one another, but also increases an organization's production and efficiency, which leads to increased earnings and improved reputation.