Zomato VS Swiggy – The Food Brand War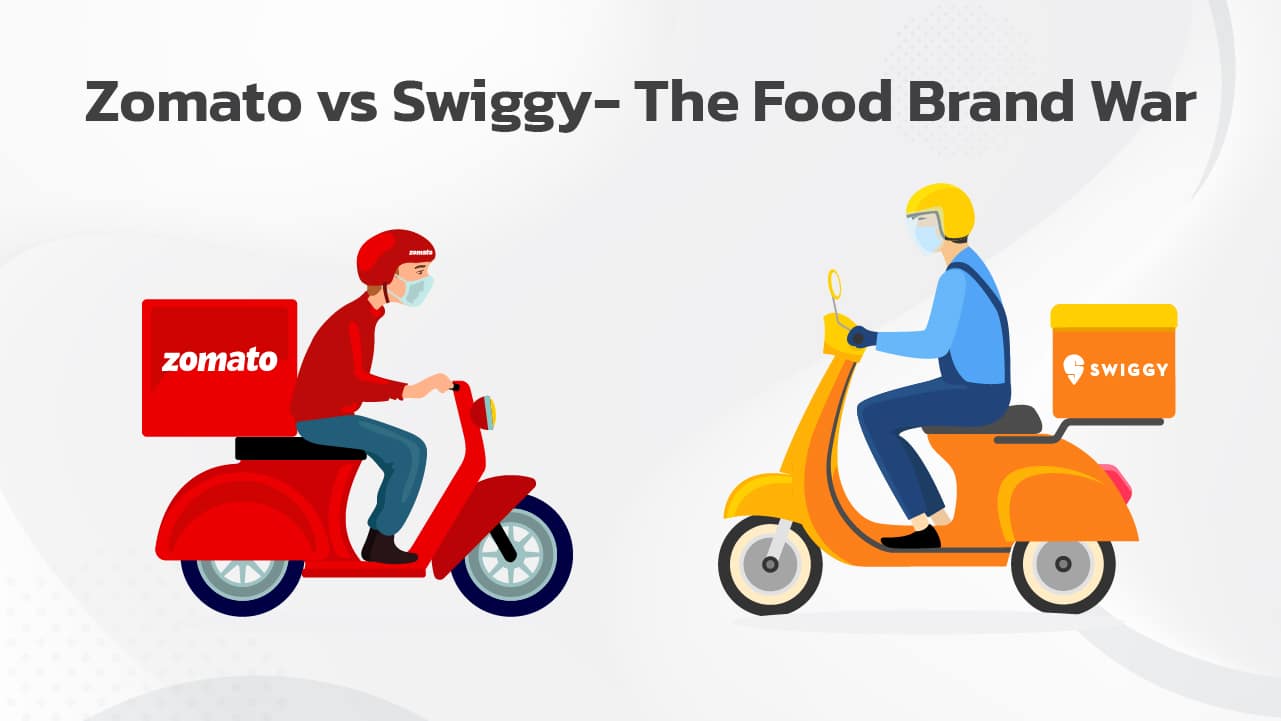 "Good Food Choices Are Good Investment in Soul Bank."
A decade ago, good food was homemade or at your favorite restaurant. Either you had to wash the piled-up dishes or feel tired after the long waiting line. 
Fast forward- Half a decade ago, your favorite restaurant started delivering food on call. Connect a call and place your favorite menu. 
Faster forward, there is no phone call or long waiting lines. It is a matter of a few clicks, and your food reaches you hot & hygienic. Today is the era of online food ordering.
Breakfast to dinner, croissants to curd rice, mocktails to desserts- You get it all.
The two most popular food brands today made history when they first appeared. Zomato & Swiggy paved their way to reach their target group, clashing with comparable digital marketing strategies and excellent social media advertising.
Let us discuss the approaches of these two major competitors in the food aggregation market and how they intend to rule the globe; it tries to make sense of the circumstance.
Zomato and Swiggy have raised substantial sums to reach the wider crowd. Scaling serves as the basic premise. The meal delivery industry is a game of numbers. To fill orders, aggregators must make significant investments in technology and labor. Also, they provide service to as many clients as possible to make a profitable model. The profit-making chances are directly propositioned to the number of consumers. It is simply the way things are. Yet for far too long, both businesses have used outrageous amounts of cash and various marketing techniques to entice customers with alluring deals.
Brief History
ZOMATO 
Mr. Deepinder Goyal launched this brand in 2008 under the initial moniker Foodiebay. To expand its audience and raise brand awareness, it changed its name to Zomato in 2010. Zomato was a website that, when it first began, aimed to be the best restaurant search and discovery platform. It included information about different eateries, including their names, menus, pricing, and reviews. Over time, it evolved into a platform for online food delivery, and then- Rest Is History!
SWIGGY 
Eight months after its debut, Swiggy was founded in 2014 by Nandan Reddy, Sriharsha Majety, and Rahul Jaimini and received USD 2 Million in funding from Accel Partners and SAIF Partners. It became a primary rival to Zomato, with thousands of delivery personnel bringing food from renowned eateries. With its straightforward yet effective marketing strategy and incredibly swift customer service, the brand quickly rose to prominence.
Marketing Strategies: The Hidden War Tactics
In June 2022, Zomato had more visitors, but Swiggy had more page views, visitors who stayed on the site for longer, and lower bounce rates. In June 2022, Swiggy looked for new collaborations and personnel to increase its market share. To expand and increase its market share, Swiggy made more investments in its PPC campaign. With more downloads, unique installs, and install penetration than Swiggy, Zomato is dominating the app market.
ZOMATO Marketing Strategies 
Zomato employs a hybrid marketing strategy that has been effective in growing sales and retaining customers. The brand's marketing plan emphasizes creativity and adaptability. Zomato gets the majority of its traffic directly through its searches-66.41% compared to referrals, social media or other paid marketing campaigns, and other sources-31.36%.
SEO Strategies
:
There is no substitute for SEO strategy, and Zomato makes extensive use of it. Around 66% of their traffic is generated by online searches. 99.44% of all organic traffic is derived from sponsored advertising initiatives providing the balance. This demonstrates that Zomato uses a tried-and-true SEO strategy and puts in the necessary effort to keep its brand climbing the Google organic SERP rankings.

Keyword Targeting:
Zomato aims to rank for about 900K keywords in SEO. Targeting so many keywords and further naturally enhancing them has helped it attain the top spot in search results since it always has the advantage in SEO. This platform has a sizable restaurant directory, which helps restaurants with their SEO. The restaurant names, food, locations, and other details are among the keywords assisting the brand's SEO. Long-tail keywords that are advantageous to the brand include phrases like "cafes near me," "restaurants near me," and others.
Website Pages:
Almost 6.5K eateries have registered on Zomato, and each has a page that is updated frequently. It brings Zomato's total pages to over 54 million, which is beneficial for the website's SEO. We are all aware that the more pages a website has, the more authoritative it is and the more likely it is to get top rankings in search engines.
URLs Linking:
Zomato increases its domain authority by obtaining backlinks from a large number of high-authority websites, such as those with the.gov and.edu domains. Almost 13 million domains presently link to the website, giving it high authority backlinks.
Internal Linking:
As we all know, a frequent SEO tactic is to link to particular URLs associated with the target keywords. It aids search engines in identifying our web pages and providing people with pertinent search results, which likewise passively raises the rankings of the keywords. Zomato experiences a similar situation, but on a larger scale, as the company targets an excessive amount of keywords and phrases to link in their URLs.
Zomato's target audience is often between the ages of 18 and 35, thus the company must work hard in its social media marketing. To stay connected, Zomato makes the extra effort to create original social media commercials and other interesting postings. Zomato has successfully manipulated the meme marketing technique to its advantage because the majority of our social media platforms continue to be filled with memes if not anything else.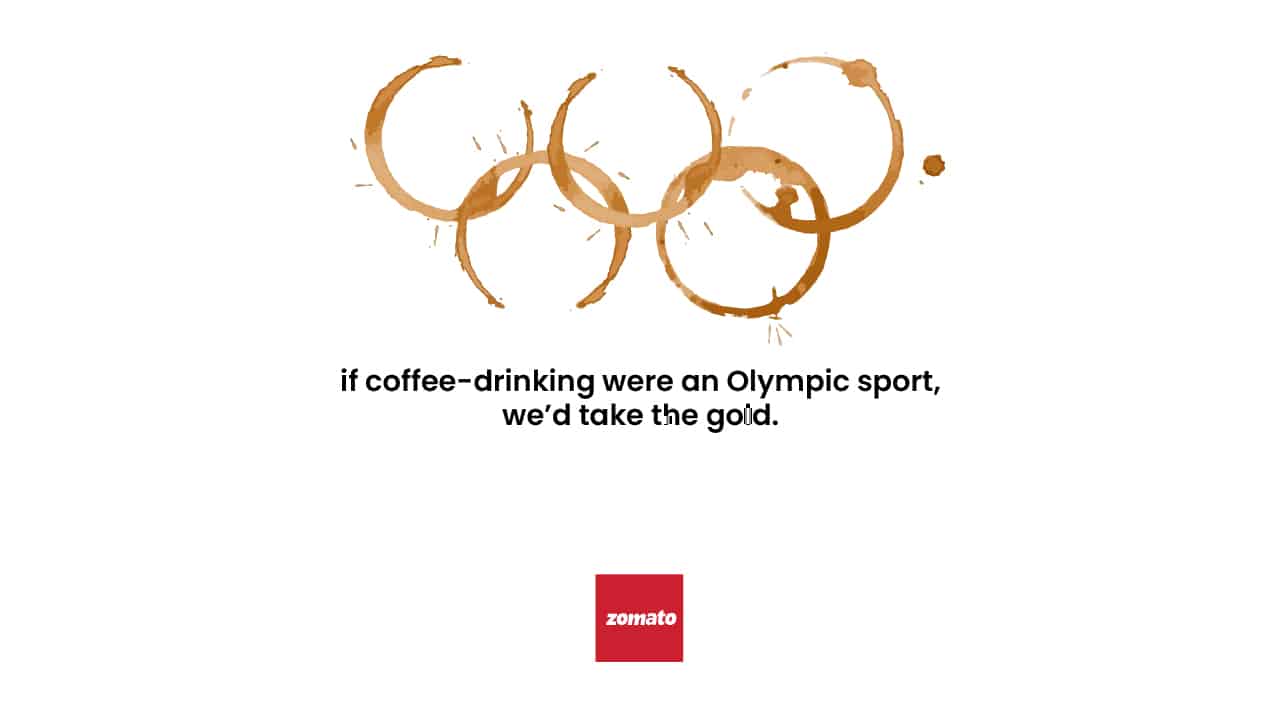 Paid Ad Campaigns:
Even though a firm may choose to use paid advertising as a transitory marketing technique, it plays a significant role in maintaining engagement. A brand's search results are considerably improved by effective paid advertising combined with organic optimization, and Zomato consistently succeeds in doing just that! The industry leader in meal delivery uses Google AdWords to target particular clients alongside its organic results.
E-mail Marketing:
We all use email to communicate, thus an efficient email marketing strategy is essential to a business's marketing efforts. Zomato is skilled at using this potent tool to its full potential. Few businesses can develop email marketing strategies as inventive and successful as Zomato's. Many businesses attempt to benefit from email marketing techniques. To maintain brand loyalty, Zomato uses engaging one-liners for the subjects and a proper call to action to conclude each piece. Here is one of the best emailers by Zomato for their pet-parent fan!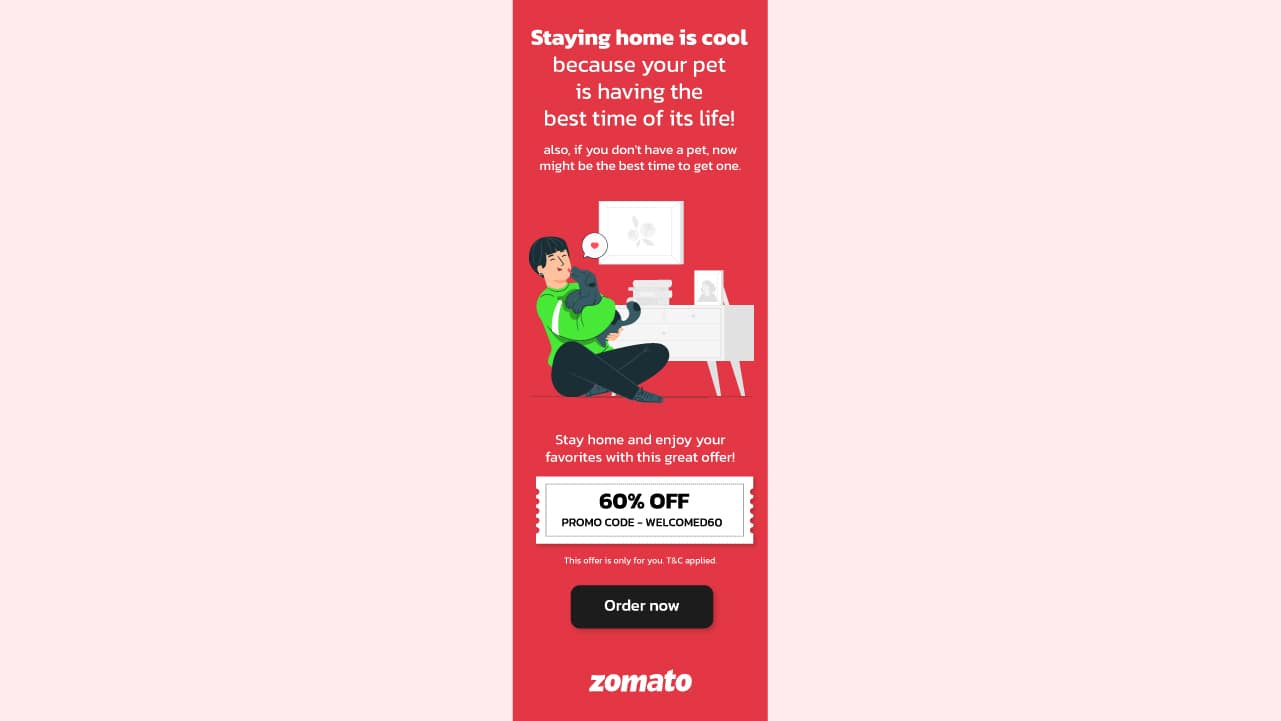 Outdoor
:
Zomato's visual advertising is interesting, just like its other marketing strategies. The firm created some of the best visual advertising as it rose to fame. Zomato regularly develops engaging content ideas to perform well, whether it is for its billboards or video advertisements.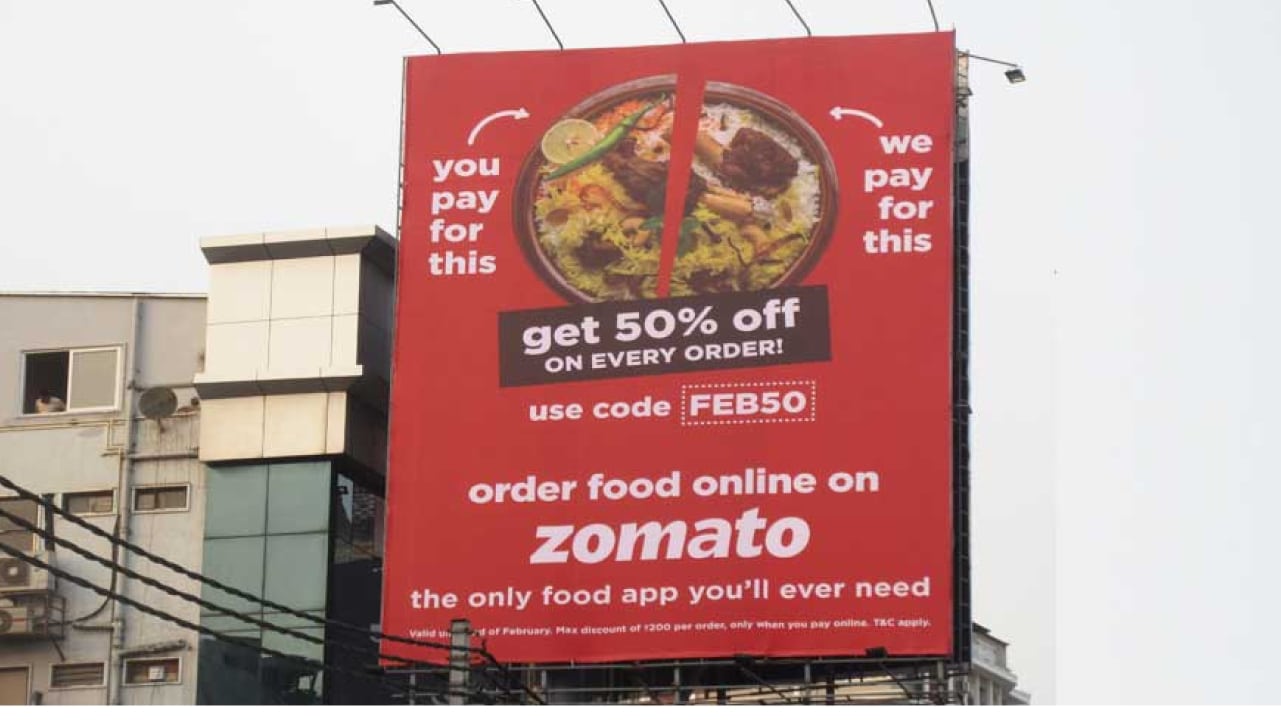 One of the co-founders, Deepinder Goyal, also stated in an interview that if anything does not go as expected, the core team at Zomato is always prepared to take it up and try again, making the required adjustments. Such commitment is always fruitful!
SWIGGY Marketing Strategies  
Building the brand and spreading awareness of the company's meal delivery services are the main goals of Swiggy's marketing plan. The company has invested a lot of money in marketing and promotions to reach more customers. To promote its brand and generate more interest in its services, Swiggy has also teamed up with celebrities and influencers.
SEO Strategies
:
Swiggy has put a lot of effort into improving its SEO. The Swiggy website's home page contains a suitable meta title that includes their primary keywords, such as "online food delivery," and "restaurants near you." They have an excellent meta description that lists the names of the well-known cities where they do business and the of their most well-liked restaurant partners. On the home page, they employ a single H1 element to let search engines know the page's main subject. With a balance of inbound and outgoing links, their backlink score is very strong. On their website, there are no broken links either. Additionally, they reroute traffic to their favorite domain from non-preferred domains. 

Social Media:
Swiggy has 391k Instagram followers, 94k Facebook fans, and 193k Twitter followers as of Jan 2023. Swiggy stands out from its rivals thanks to its innovative social media marketing techniques. It has previously created fantastic campaigns, such as #earnyourcheatmeal or #superswiggy, that humorously express the idea of healthy eating through puns and clever one-liners. On Instagram, when they are not promoting advertisements, they post appetizing food pictures. They want people to want delicious meals. People will look to Swiggy to deliver good meals if they desire them. 
Memes:
Memes have evolved into the millennial generation's vernacular and Swiggy has adopted it. Memes spread quickly online, therefore Swiggy seizes the moment to add its flavors to these popular memes to increase customer interaction on social media. Next has given up its variations of these viral memes, from the real meme to Ariana Grande's blockbuster song Thank u.
Topical Trails:
In terms of topicals, Amul has unquestionably set the standard. This tactic has also been adopted by Swiggy. Swiggy creates eye-catching visuals on subjects that are important in India. They incorporate everything from cricket news to political unrest into their social media posts.
Fascinating Feed:
Everything in a social media feed should seem good. Swiggy has taken the lead in creating a feed that is appealing to everyone. They have made an effort to keep a lively feed by posting mouthwatering meals against beautiful surroundings. Their social media platforms are flooded with images of meals that are appropriate for the millennial hashtag #Instafood, which is frequently used by young people on Instagram.
Swiggy's digital marketing plan will need to change as the online world does. As Swiggy wants to enter other areas, it will need to keep coming up with innovative strategies to draw people to these cities. They are currently performing admirably, and if they continue to enhance their web marketing in line with current trends, they will continue to find success in their efforts.
Swiggy & Zomato- A Face Off
Zomato was a late contender in the delivery race, whereas Swiggy started delivering food in early 2014. Zomato was late, but it quickly integrated with Swiggy. Zomato recently passed the 3 million order threshold, while Swiggy currently processes roughly 4 million orders each month. Importantly, Zomato has started to turn a profit, and to celebrate this development, it launched a campaign with no commission fees for partners. Also, Swiggy surely suffered from that campaign. Now, Swiggy charges its partners a commission of 15% to 25%. Restaurants can lower the margin they pay to Swiggy by signing up for the zero-commission scheme.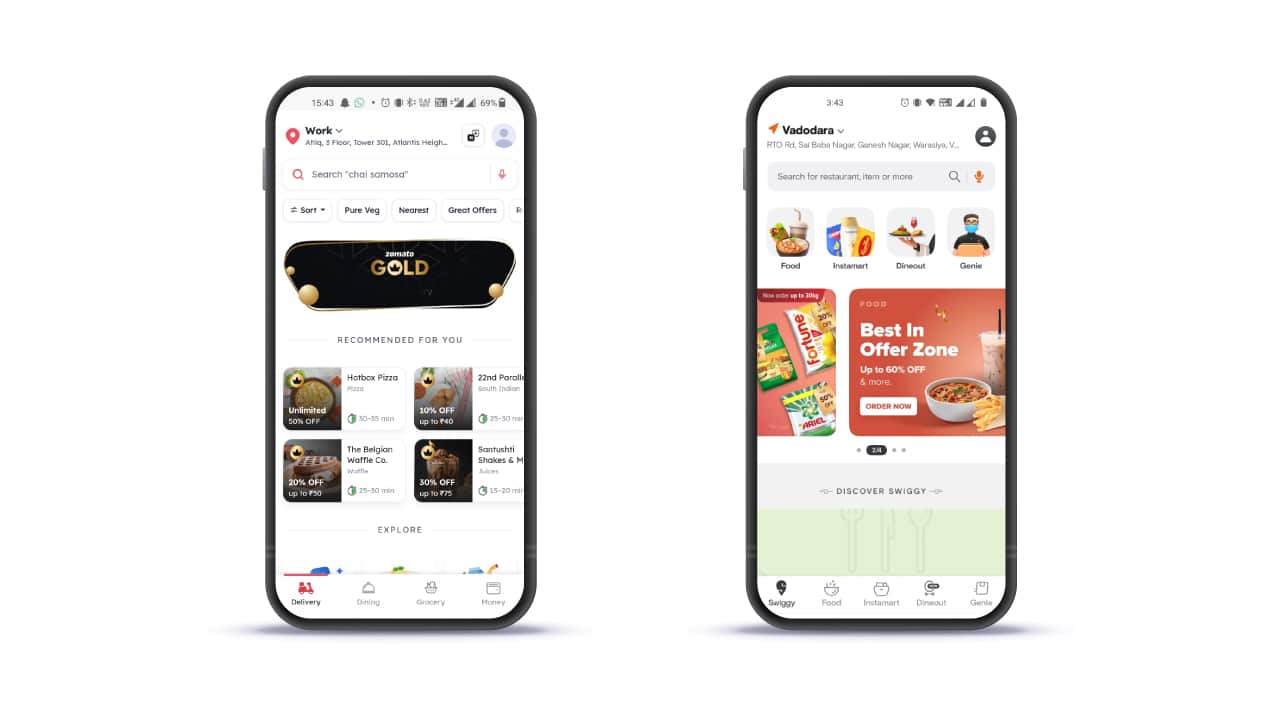 Welcome Screen
:
Swiggy makes it simple to place an order without requiring you to activate location tracking. If you have not selected a location, the app will continue to alert you using the device's location-tracking feature. Swiggy automatically determines your location when you enable the location. In a summary, the app's overall design and functionality are respectable. On the other hand, Zomato requires that the device location tracker be turned on. The fact that Zomato offers services in more cities and towns is one of its best features. When you turn on Zomato, it does a decent job of automatically determining your location.
Payment:
Swiggy offers alternatives for how you wish to pay while you are placing an order. Even if you have your Paytm number set up, there is still one more step. Zomato's payment process is pretty straightforward, and it remembers and uses your most recent payment option. It will remain the same and be much better throughout the payment time if you have already made a payment using Google Pay or COD.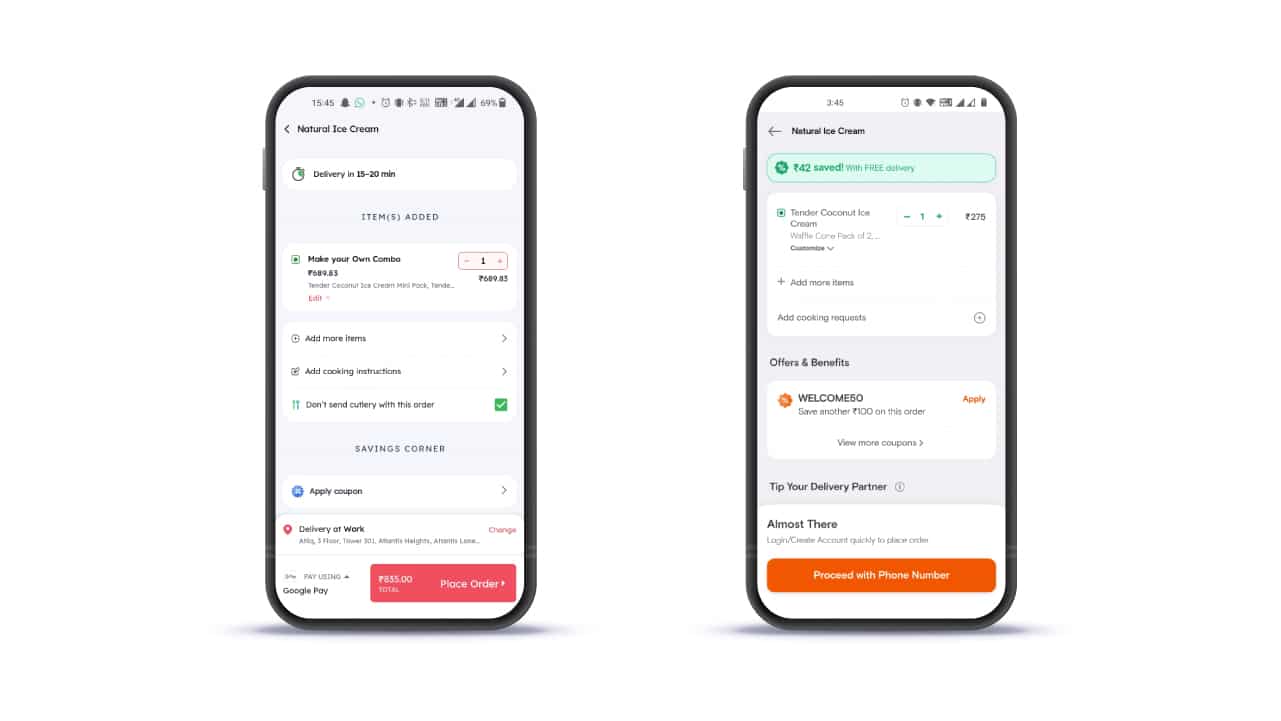 Delivery Speed:
Swiggy wins the race. The app's timings are often accurate, and food is frequently delivered on time. Except for the terrible weather, Swiggy has been doing well. On the other hand, Zomato displays erratic timings. There are instances when it's difficult to grasp where the delivery man's marker on the map is.
Marketing:
Look at these ads for eid. Zomato devotes a lot of time and energy to SEO. By using the most popular keywords and creating its URL from them, Zomato employs a highly effective technique to guarantee that you have the most traffic to your website. The sole aim of their marketing is to reach customers all around the world. And they employ every digital marketing instrument available to make sure this thing occurs. Zomato knows the nature of its audience and uses humor, fashion, and current events to keep them interested. Additionally, Zomato guarantees that it will always be at the top of its game with its creative marketing approach. To develop its complete marketing strategy, Swiggy places a lot of emphasis on the hunger and desire of individuals. Swiggy's tagline "Craving Something?" is evergreen!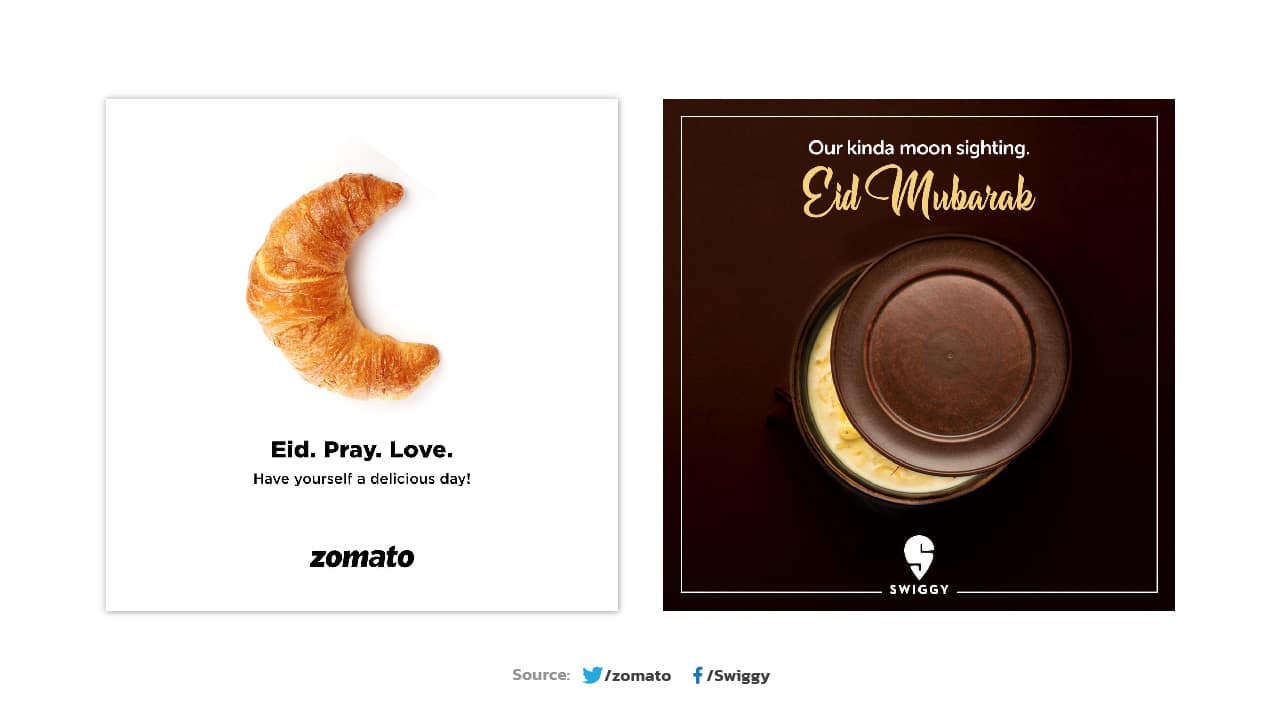 Number of Restaurants:
It is all about the variety, as is often remarked. We adore diversity, don't we? Also, we cannot take any chances when it comes to diet. Swiggy, if we're talking about it, has hyper-local restaurants linked to it. Swiggy charges a distance fee for some of the exotic eateries that are also listed on the app. The list of eateries on Zomato is also excellent. But, when it comes to adding hyper-local restaurants, they are not as quick as Swiggy. Despite everything, Zomato does list certain places that Swiggy does not.
Offers:
In fact, the majority of us search for deals on meal delivery apps before making a purchase. And Swiggy is a touch behind in terms of offers. Zomato's approach to attracting new clients and keeping them has undoubtedly been successful. Zomato consistently gives more cashback offers to customers than Swiggy. Hence, if we discuss the current situation, Zomato is unquestionably the victor if someone is looking for good food offerings.
And the winner is…
The winner of the Hunger Games will be determined based on several factors. In the battle of food delivery apps, Zomato is a close second to Swiggy in terms of the volume of orders. Swiggy can be a terrific option if you wish to order from the tiny restaurant close to your house or place of business. Zomato is your best choice, nevertheless, if you're looking for "cash backs." It does eventually come down to individual requirements. Both seem to be performing great to me, however, Zomato is superior in terms of offers.