Role of ORM in Digital Marketing : A Complete Guide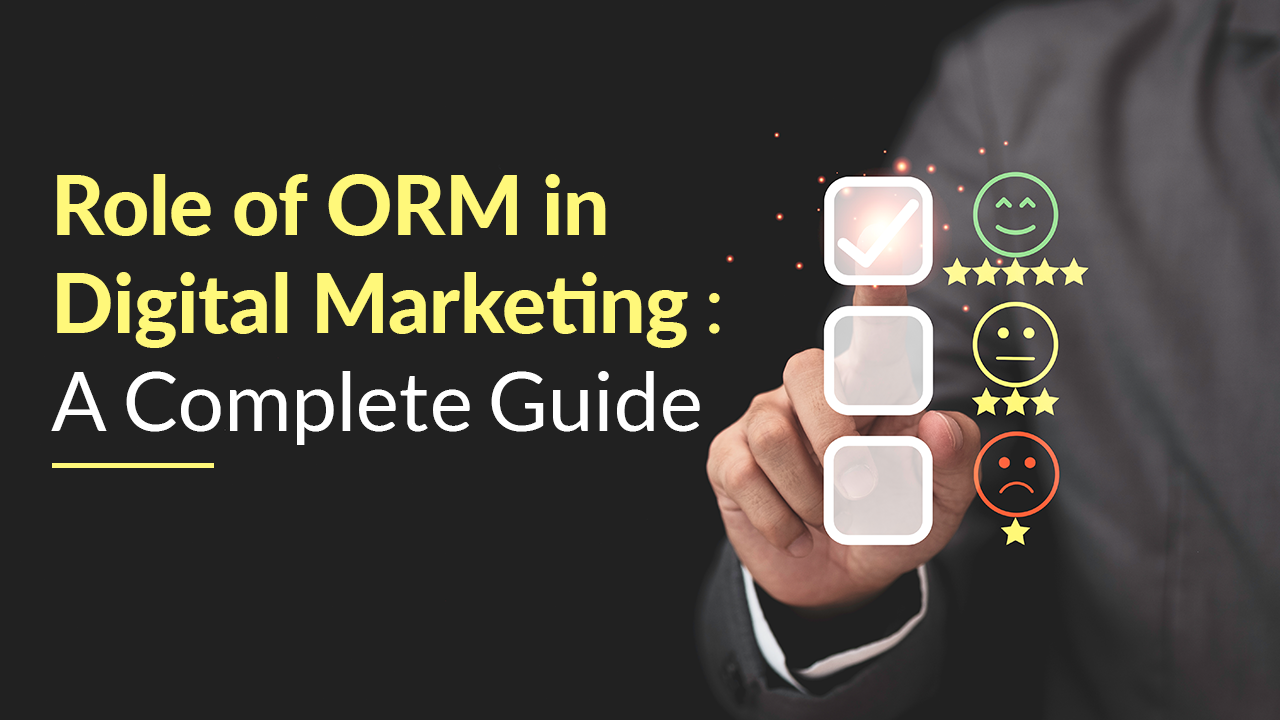 Reputation matters for an individual as well as a brand!! 
In a digital era where customers are powerful enough to leave reviews and impact your brand identity, it becomes quite essential to maintain your reputation.  If you fail to preserve your brand image, you will fail to attract customers. If you fail to attract customers, you will fail to grow. 
Reputation is concerned with how you perceive your brand image and how others perceive your brand image. Therefore, having a great brand image can help you build strong relationships with current and prospective customers. 
Any business owner understands the importance of a strong reputation. It is true that with a good reputation, a business can stand out from competitors and increase revenue. Take Nike for example. Many sportswear brands and shoes are available for cheaper rates, yet people prefer Nike because of its reputation. Nike has created a unique and strong brand identity, which helps it separate itself from competitors.  
However, reputation management is often confused with reputation marketing. There's less clarity amongst the audience for terms like online reputation management and online reputation marketing. Let us try to understand these terms from a context of a brand. 
Reputation Management:
Similar to an individual reputation, a brand reputation is about how the stakeholders, customers, and the market views the brand. It accounts for their quality, goals, and impact as well. Contrary to popular belief, it is about more than maintaining a brand through crisis management by responding to negative reviews and feedback on social sites. It is more than resolving customer complaints and negative impressions about the company.  A positive brand reputation means better customer loyalty, which ensures better revenue and growth.
Reputation Marketing: 
Reputation Marketing is promoting and monitoring the content and feedback given by customers. These include reviews, social media comments, press releases, online forums, etc. With this, it becomes easier to understand the brand perception, customer expectations, and scope of improvement.  Reputation marketing can be a great way to understand a brand's online image.
Often people think that reputation management and reputation marketing are the same. While you will find similarities between both terms, there are also some differences. Reputation marketing is primarily concerned with marketing the positive content of the brand to enhance its identity and increase its sales. Reputation management focuses on this aspect, but it also includes others. It is mainly concerned with influencing what and how people perceive a brand.
Online Reputation Management
Online reputation management (ORM) refers to addressing any negative or false comments you actively monitor mentions of your brand on websites and social media. Moreover, ORM also deals with managing content in search engines. It is mainly concerned that a viewer will discover your brand, business, and identity online. 
ORM is essential for a business because it helps establish a brand identity. If a consumer is looking for your brand online, you would not want him to see your negative online presence. A negative reputation will repel the customer from your brand. Moreover, it will have a direct impact on your brand growth. On the other hand, a positive reputation will help you retain customers and attract new prospects.
Does Online Reputation Marketing Impact Digital Marketing? 
Anything on the internet impacts the reputation and hampers the efforts made toward digital marketing. People judge the brand by what they see on Google. People search for your brand and come up with different feelings toward the brand.
How to Identify Your Online Reputation?
Before you start making improvisation, it is important to analyze your current position. Measure your online reputation using the ways given below: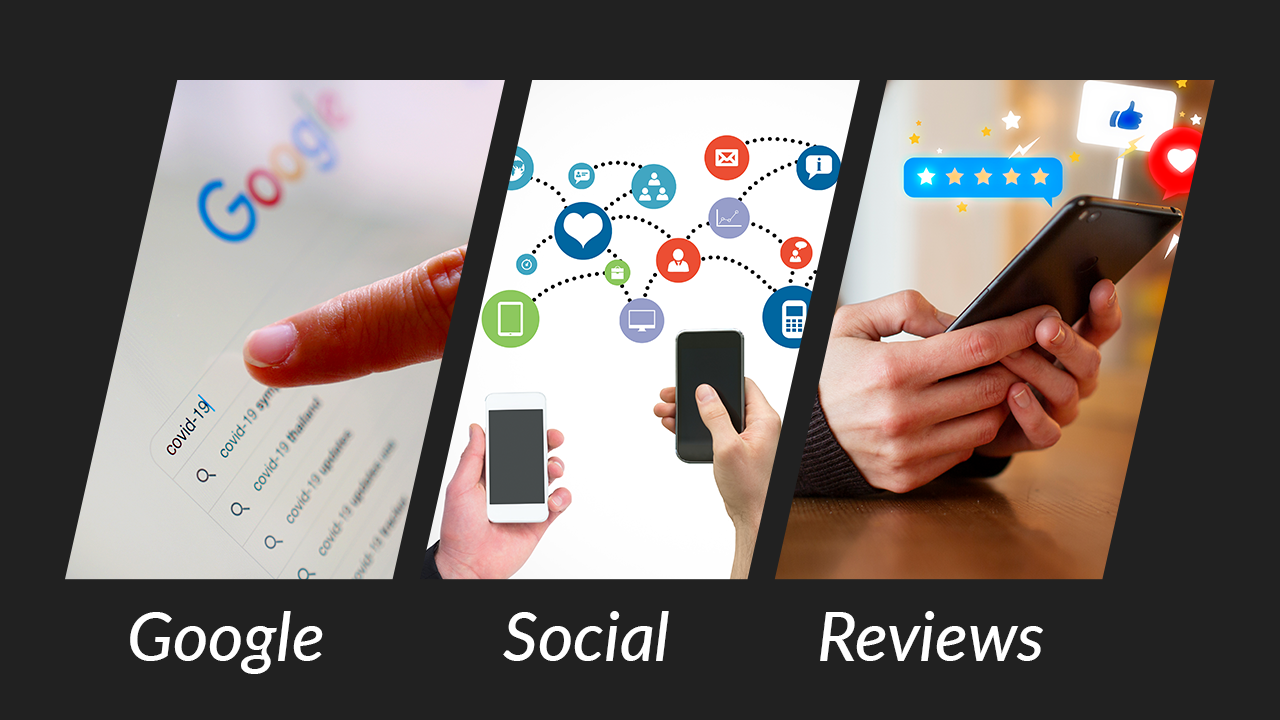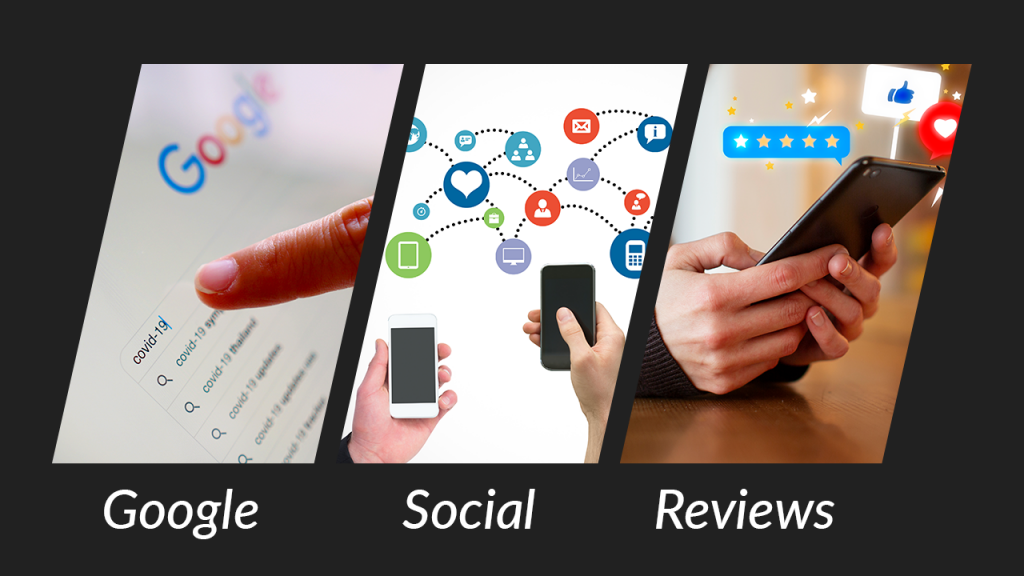 Google
Google is the first place from where a customer gets to know about your brand. So make sure you are well presented here. Check for the following things in google to identify your brand reputation. 
Are you positioned in the first five listings? 

Are you being portrayed as a leader or industry expert? 

Are the visible links positive? 

Are there any ORM issues that need to be addressed immediately?  
Check your Google My Business Account
If you don't have an existing one, make one. 

If you have an existing one, make sure that all the given information is accurate. 
Social 
Every other customer opts to have a quick look at your social media pages and site before purchasing or visiting. Thus making sure that your social sites are speaking for you. 
What is your follower count?

What is the frequency of posting?

Do you respond to comments and messages?

What is your average response time? 

Does your post reflect your brand message? 
Check your social media sites for hashtags and locations. Checking social media will help you determine your brand identity. What are people saying about you? Are they happy with your products and services? Are there negative reviews for your brand? Have an eye for negative comments and see if you have some fans of your brand who step in to protect its identity.  
Reviews
Check if your Google reviews, if any, are received. Look for the average ratings you receive. 

Check out your social media reviews. Check your response to them. 

Check for comparison sites by third-party companies and try to analyze your rank.  
Why is Online Reputation Marketing Important?   
Online reputation marketing deals with positive customer feedback promotion through various digital marketing techniques. When potential prospects search for your brand online, they see the content up there. It impacts the customer perception of your brand and thus makes a great first impression. If you have positive reviews, it will encourage prospects to check your products and even buy them.
Online Reputation Marketing strategies vary as per the industry. But some principles are valid for all. And having an ORM strategy contributes to the growth of your brand. Effective Online Reputation Marketing helps a brand in the following ways: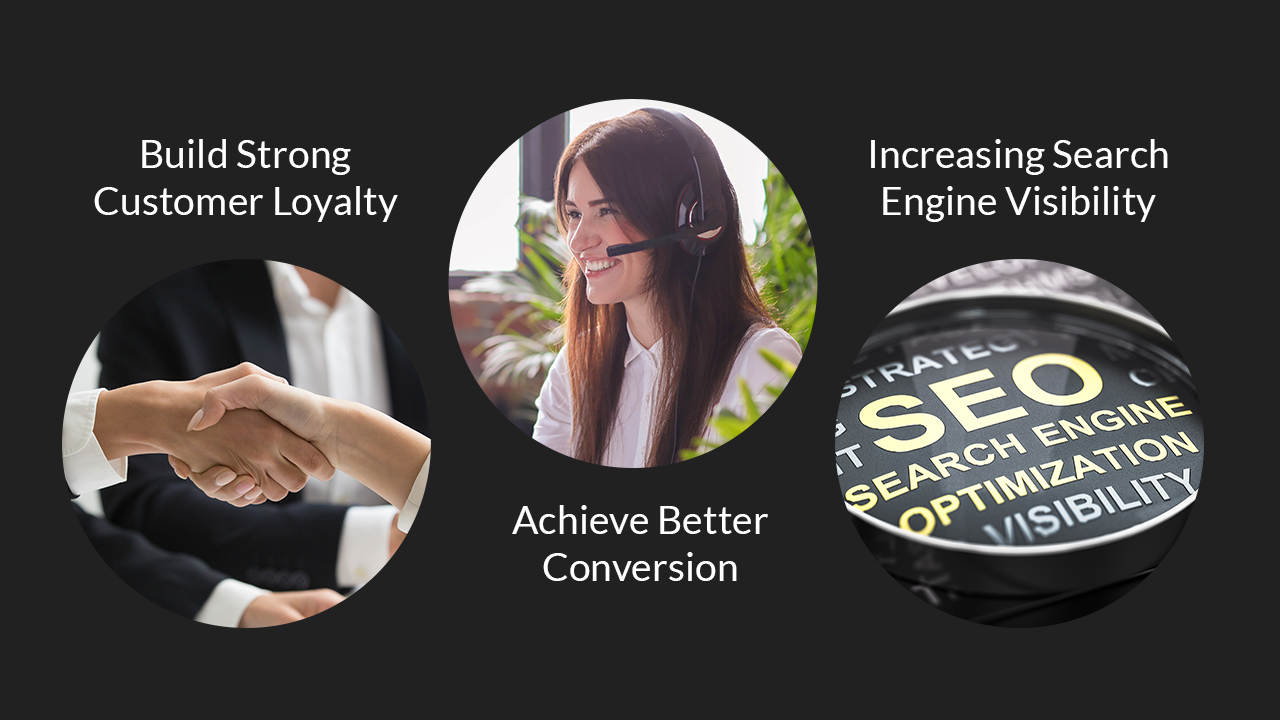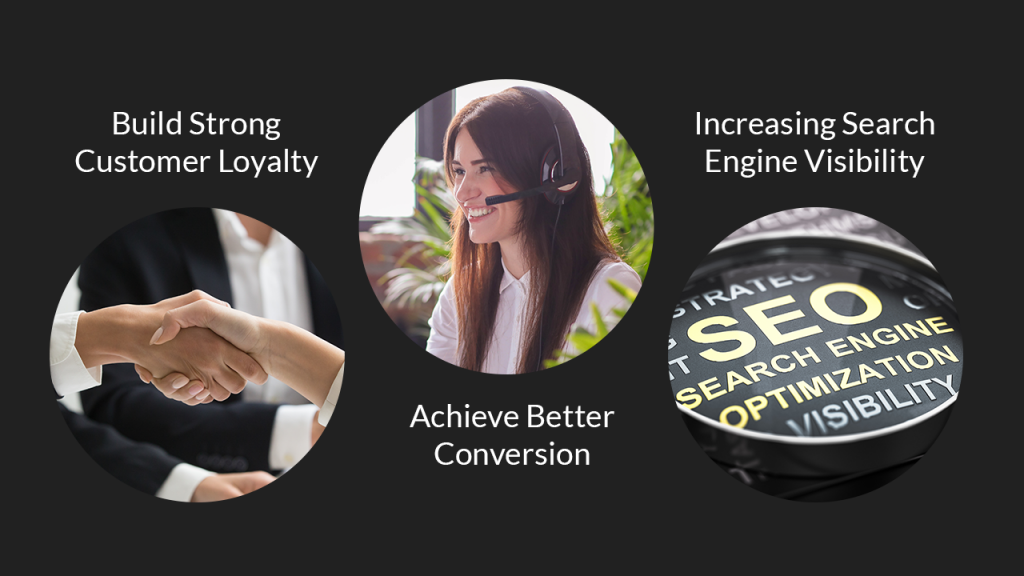 Build Strong Customer Loyalty:
One of the major reasons to work on online reputation is the influence of online reviews on the purchase decision of a new visitor. They are exposed to reviews even without the intervention of search engines. Thus brands need to treat customer feedback as a valuable asset that can impact their online reputation and aid in revenue growth.  
Achieve Better Conversion:
There is a direct relationship between online reviews and sales conversions. Generating revenue is the goal for any business, and having the best online reputation management plan helps in achieving it.  We can consider the example of e-commerce websites. How often do you buy a product from your favorite fashion e-commerce site, when you spot a review? Never, right? Parallelly consider a scenario where your favorite product has tons of positive reviews. Wouldn't that prompt you to quickly add that product to your basket?
Increasing Search Engine Visibility:
When a person wants to look up your brand, they turn to Google, which controls almost the majority of global searches. Google is the world's most popular search engine. That's why simply generating more positive reviews won't be enough for optimizing online reputation management. It is essential to optimize them to make them appear at the top of search engine results. The search engine algorithm works in that way. When search engines notice positive reviews and content surrounding your brand, they consider you authentic. As a result, your brand gets a better chance of ranking at the top of search engine results.
Common Mistakes Made in Reputation Marketing
The most common mistake in reputation marketing is relying solely on paid information. Today, people consume plenty of information and differentiate between paid and organic reviews. If a customer gets a hint of paid review, it will hurt your brand identity. Organic reviews have and will always get an edge over paid reviews in terms of authenticity. The general notion of paid reviews is that anyone can acquire paid reviews. But earning customer loyalty and gaining genuine respect for brands is more valuable.
The right combination of paid and organic information would be a well-planned reputation marketing strategy. However, more resources and efforts should focus on the organic approach. Even though buying fake reviews or luring customers to leave reviews seems tempting, they yield little to no return on investment. 
Instead, you can invest in press releases to reach a vast audience range when you launch a product, make a significant change or gain more recognition. This way, you can bet on a paid reputation marketing strategy through organic efforts to get recognized by more potential customers.  These are some of the reputation marketing mistakes you avoid to have a positive online reputation. But what if you already have an online reputation management strategy that needs to be improved? Now, let us look at ways how you can improve your online reputation strategy.
Ways to improve your online reputation strategy
Focus on Highlighting the Best Reviews of Your Business
One of the best ways to improve your online reputation strategy is to highlight your best customer reviews. It is one of the most effective ways of optimizing your online reputation management strategy.
For the same, you can focus on a review widget on your website that constantly displays the positive reviews of your business. Another method of leveraging positive reviews is by writing blogs and preparing case studies and customer testimonials that share the experience of happy customers with your brand.
Keep Tracking All Your Customer Review Sources
A brand needs all the data surrounding its brand to assess its performance and reputation. Tracking all the customer review sources can help you oversee all the reviews of your customers.
Reputation marketing software can help you manage reviews. If you don't wish to use software, you can hire a reputation management team that oversees all the processes.
Don't Forget to Ask Happy Customers for Positive Reviews
Did you ask your customers for positive reviews after they availed service?  Brands often ask their happy customers to share a review on social media or websites so that they can have a positive influence on the visitor's mind.
While asking for reviews on the website is one of the ways, there are brands who also their customers to leave reviews on social media sites. As a brand, you can ask customers to use specific hashtags and tag you to increase your visibility. 
It can help you consistently generate positive reviews for your brand, which will ultimately help you enhance your brand identity.
Treat Positive Reviews and Negative Reviews Equally
Many brands make the mistake of responding only to negative reviews. But responding to positive reviews can also be beneficial. Consumers often like these gestures, where they notice your effort appreciating their review. It creates a connection between both parties and enhances customer loyalty.
These are tips that can help you improve your online reputation. If you think it is time-consuming and you will not be able to do it, you can hire a reputation management agency that helps you out with it. 
Conclusion:
Reputation marketing solutions are the need of the hour. Brands that are focusing on their online reputation are growing seamlessly. As a brand, you should ensure having a positive brand identity, as it will have a significant impact on your business results. But how do you work on a positive brand identity? You do it by planning and optimizing your content to create a positive impact. Moreover, you must ensure that your social media profiles do not go unattended. Social media channels play a significant role in online reputation.
But if you have a positive online reputation, does that mean you are future-proof? Obviously, no! If you do not have negative reviews today, doesn't mean that your brand image will remain constant forever. Therefore, work on a future-proof strategy, and keep improvising. Your online reputation can change quickly, and to tackle the same, you must have a solid online reputation marketing strategy.
Do you think you will fail in it? You can hire the services of a digital marketing agency that helps you repair, manage, and improve your online reputation. A digital marketing agency with a versatile strategy that will help you improve your online presence across all verticals. If you are looking for that agency, why not us?
Reach out to us at info@ideatick.com