A 360° VIEW TO 360° MARKETING CAMPAIGN
Before seeing how a 360° marketing campaign helps in building a brand, let's understand what it means. While everyone understands the importance of marketing, 360° is something that covers the entire branding and advertising activities required. It is a complete creative campaign idea across all elements, designed to implement beneficial brand strategies. In simpler words, it focuses on bombarding consistent messages through marketing elements. 
This also includes a promotional marketing approach where all channels are used in an effective way to communicate with the target audience.   
In simpler terms, a 360° marketing plan is focused on spreading the word across multiple customer contact points. Even though it sounds much like a marketing general, it requires thoughtful presentation & placement of the message, catering to different audiences on each channel, ultimately driving towards a unified goal.   
How to develop a 360° marketing campaign? 
While every business is understanding the need for marketing campaigns and creates unique marketing strategies for their products/services. With the increased competency, the brands have been creating exclusive 360° marketing strategies. Many brands still wonder about how a 360° market plan will help them grow their brand. Below mentioned are a few ways to develop a well-defined 360° marketing plan.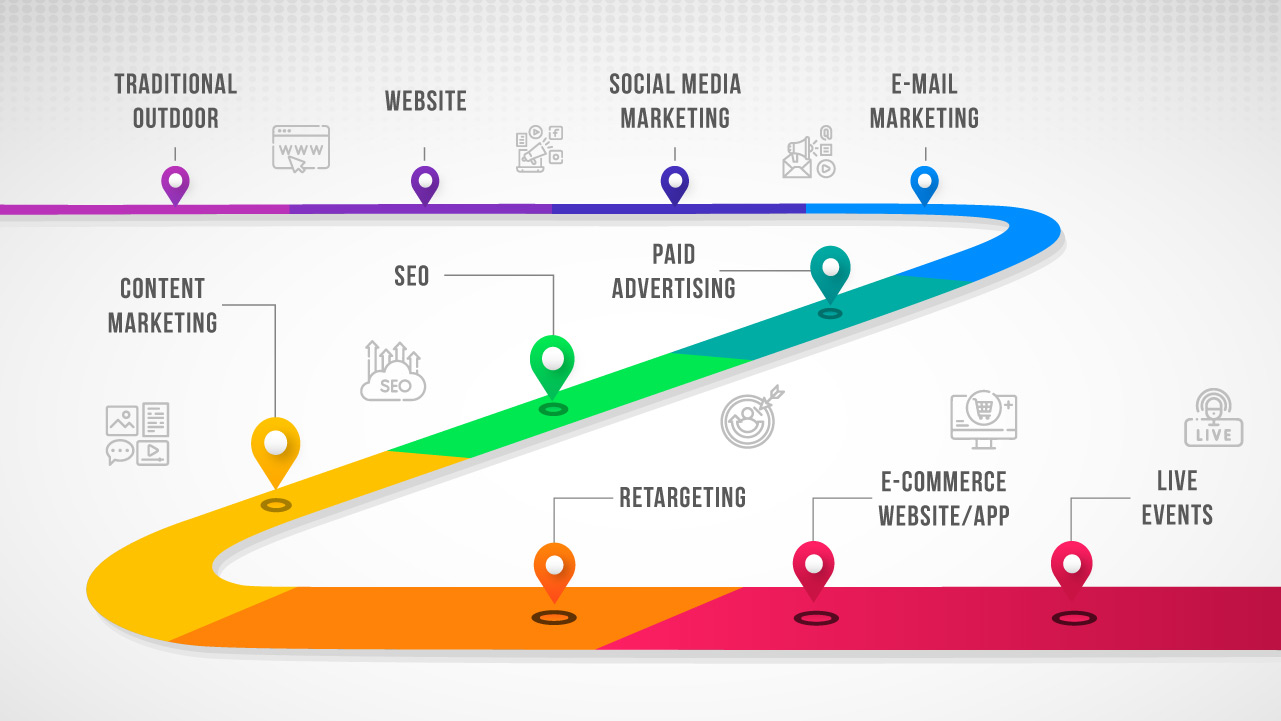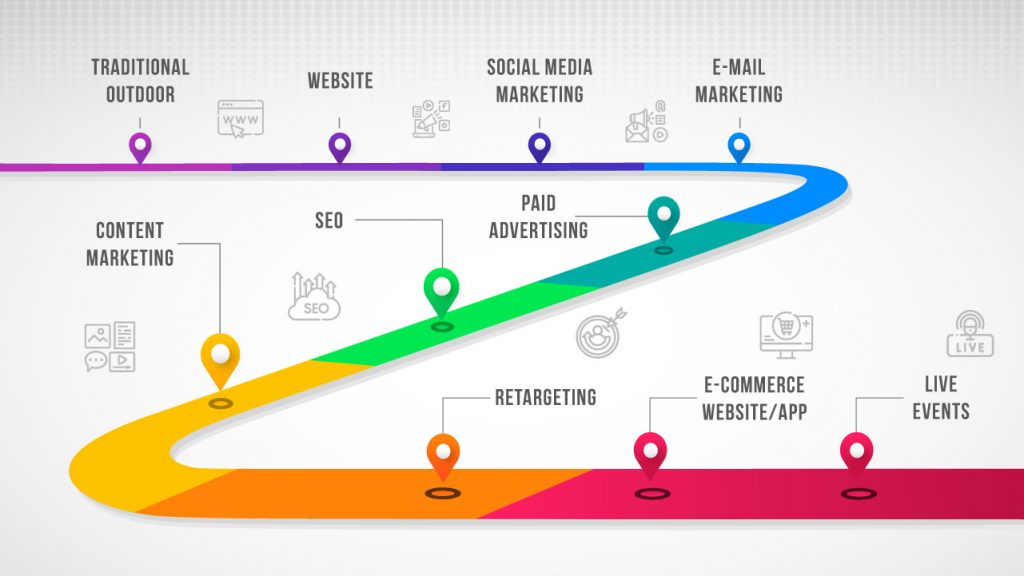 Traditional Outdoor
:
This still remains a high demanded form of marketing even in the internet marketing era. Through outdoor marketing companies can promote themselves to a greater mass, using various advertising forms like billboards, banners, hoardings, etc. With the advancement in technology, traditional billboards are being replaced by digital ones.  
Website
:
Along the side of traditional marketing, the age of digital marketing enjoyed its hype. Brands feel that a website is an easy option for the audience to gather information. One of the key things to be kept in mind while constructing a website is the design. An eye-catchy design can attract a number of prospects, while a dull site can put off the audience. 
Social Media Marketing
:
It is the new phase of marketing that the brands are trying to leverage. Even many small-scale businesses have now become recognizable brands with the power of social media marketing. In the current situation, huge market demand is created from this medium. Thus it becomes important to plan it the right way. 
Email Marketing
:
Almost all online stores send emails to their customers and prospects. Receiving vouchers, discount coupons, and sale updates via email influences people to have a look at the store, which might eventually convert into a sale. 
Paid Advertising
:
No matter how good your ad is, good exposure is a must. It is one of the easiest ways to drive a potential audience in a short time span. PPC ads combined with the organic search will help brands to reach a larger target audience and generate a better ROI.    
SEO
:
Search engine optimization can bring in more business, generate potential leads, and improvise search engine ranking. 
Content Marketing
:
Content brings a voice to your brand, and thus it is important not to underestimate the power of content. A well-curated SEO-rich content can draw huge organic traffic. Not only text, but everything like pictures, graphics, videos, etc also matter.  
Retargeting
:
Also known as remarketing is localized to a particular platform. With re-engagement tactics, campaigns can bring the customers back to the site. This can also bring back the customers who were genuinely interested and have abandoned the cart.  
E-commerce website/app
:
This is one of the must-haves for businesses that sell online. With these, businesses can overcome geographical restrictions and gain valuable insights. Using CRM software, they can generate a 360° marketing result for the business. Apart from that, there are many features in an e-commerce app/website which will give an upper edge to the business and be able to interact with the customers on an individual level. 
Live Events
:
While more events are taking place virtually due to the outbreak of Covid, the marketing landscape remains the same. Active involvement in conferences, exhibitions, or other related events can bring in great opportunities to connect with potential customers. Also, small-scale businesses host events of their own like laid-back "Ask Me Anything" sessions. 
A 360° marketing campaign should be an ultimate balance between message, channel, and the target audience. Cross-referencing the analytics of different sets of audiences from various marketing channels can help the brand to build an impactful 360° marketing campaign. The above-mentioned point is not entirely everything, but 360° marketing includes a lot more. With these strategies, the business can craft tailor-made campaigns for the target audience. The market trends are constantly evolving, which requires newer concepts and strategies for every campaign. With the change in customer preference and marketing trends, the need for 360° marketing strategies is increasing. Brands are now relying on digital marketing agencies to keep up with the trend.