Influencer marketing strategy for business growth in 2020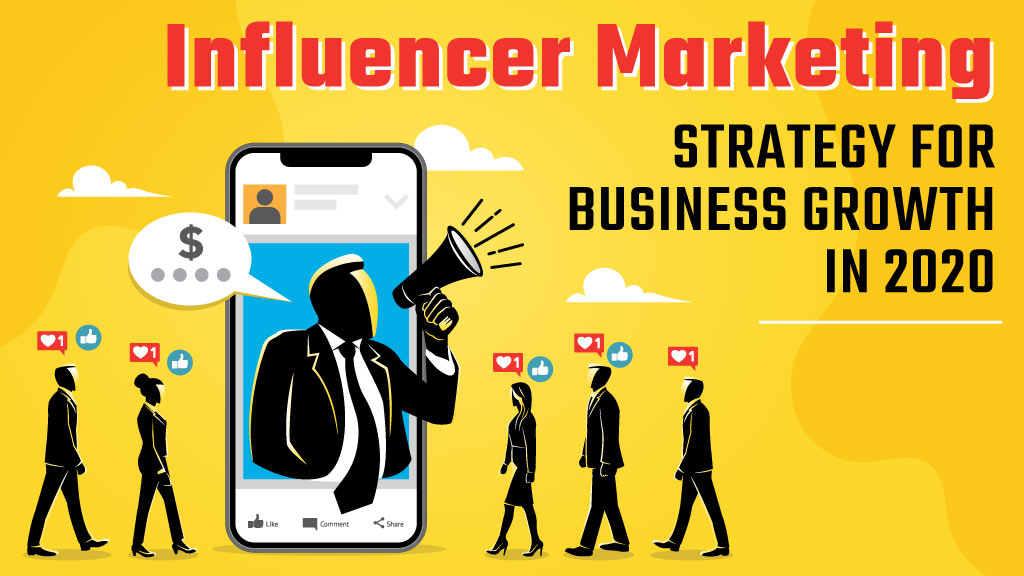 Influencer marketing is a strategy that picks out people having a substantial impact on a brand's industry or target audience. Influencer marketing strategy is a strategy that recognizes people having a substantial prominence on a brand's industry or target audience. Having a partnership with influencers creates an impact and intensifies your brand's reputation, enhances audience engagement and increases conversions.
Influencer marketing is trending amongst all the businesses including digital marketers. Nowadays many brands are engaged in influencer marketing campaigns and investing time and resources in it. There are many reasons to integrate influencers in your marketing strategy but some of them are very prominent.
1. Purchaser has credence on influencers
They believe whatever the content and recommendations influencers post is always true and they get inclined towards it. Once the product is endorsed by the influencer there is a high probability of the customer having faith in that. They have a high impact on whether the customer will buy the product or not.
2. Increase in the usage of social media
There is rapid growth in the use of social media in all age groups and genders. These platforms are very important to influencers. It is a common platform where they connect mainly with their audiences and therefore, it is necessary to make these marketing strategies.
Majorly celebrities are considered to be one who influences people but with the change in time now opinion is what matters most. Present-day opinion leaders play a major role in influencing people. Social media channels are growing rapidly and all age group people are so involved in it that they use these platforms to connect with the brands and influencers use it to connect with the customers. Therefore, it is very essential to include social media as a brand marketing strategy. There are certain things people should keep in mind while preparing a strategy for 2020:
The number of followers influencers have is very important for the audience to get inclined towards your brand. The higher number of followers means a higher engagement rate.
Influencer marketing will be expanded as most of the brand has experienced it and got to know about its importance and push towards long term partnerships. So, in-house influencers will have a bright future because it is difficult to find influencers complementing your brand faultlessly. In-house influencers just have to focus on creating meaningful relationships with the audiences and should not be worried about dealing out on content.
It is a tendency to think that only communicating with audiences is enough to influence the market, but with time the scenario is changing. Now, brands will be focusing on conveying the total experience of the customers and the brand journey. This reflects the extent of influencer marketing and showing the need for content creators to be more creative with the content to keep hold of customer's attention in spite of getting exposed to the same information several times.
To be successful in 2020, core values should be focused. Brands need to throw in with the one who draws attention to their core values. There are many brands but customers are more attracted towards which are there for a reason not just sake for the money. The brands having purpose for some social and environmental cause will attract more audiences as compared to other ones. The brand purpose will hold importance. Having core values in the brand helps to develop a relationship and trust.
The year 2020 will be more advanced in terms of marketing data and technology. The financing in digital marketing will keep on increasing as it has proved itself to be very productive and has given tremendous results. It will result in increased insight about consumer behavior and leads to increased achievements. It will assist in better understanding between the customers, brand and the creators for creating effective and relevant content along with the creativity.
Influencer marketing is growing day by day in the last few years and there is no sign of it slowing down in the upcoming years. There are influencer marketing stats which are advantageous for businesses as well as influencers.
89% of marketers say ROI from influencer marketing is comparable or better than other marketing channels. (Source: Mediakix)
Businesses make $5.20 in for every $1 spent on influencer marketing. (Source: Influencer Marketing Hub)
There will be growth in the budgets of influencer marketing in 2020 nearly by 65%. (Source: Big Commerce)
Influencer marketing is being used by almost 93% of marketers and implement is as their comprehensive marketing strategy. (Source: Social Publi, 2019)
There is a major effect of influencer marketing on consumers. 80% of consumers purchase products after watching the endorsement done by an influencer. (Source: Rakuten Marketing)
As per the 68% marketers, Instagram is the most influential social media platform for the campaigns. (Source: Linqia's The State of Influencer Marketing 2019 Survey)
YouTubers are 17 times more engaging and influence 11 times more as compared to the mainstream stars. (Source: Single Grain)
Google searches for the term "influencer marketing" grew by 1500% over 3 years. (Source: Influencer Marketing Hub)
When evaluating influencers, brands look for the quality of their content (81%) more than the engagement rate (73%). (Source: Mediakix)
The purpose of influencer marketing is to engage audiences with influencers on social media. They are very potential to advertise the brand message to a larger audience in an effective manner. It's easy to advertise the brand purpose and messages through influencers as they have followers and they have trust in them. Influencer marketing campaigns are essential to associate with the social media audience. Influencers are developing different eras of creativity through influential marketing. They are the ones who collaborate insights about the audience and innovative strategy to produce the market having loyal and retained customers.