Why Infographics are important for your website?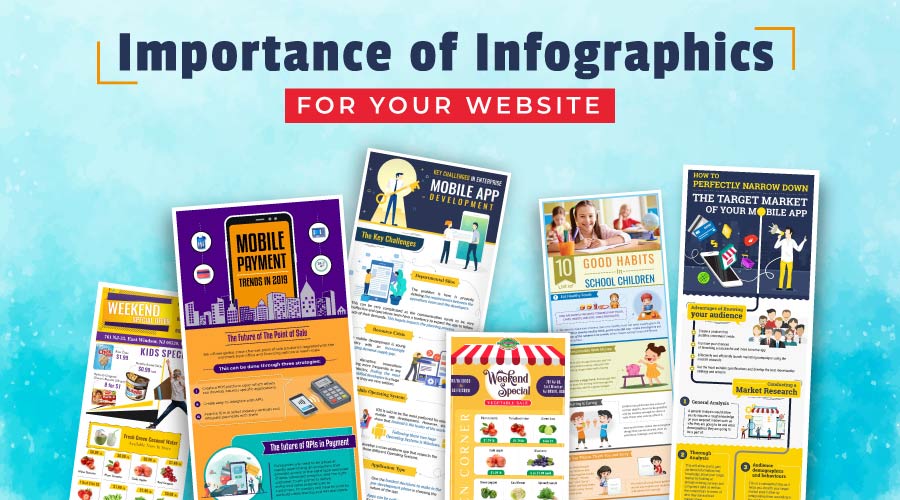 The whole world is moving towards technological development and business growth needs digitization in this evolving era. With the digitization comes digital marketing and website which exhibit your business and advertise a business. Being aware of the importance of infographics plays a major role in generating interest in the audience towards your product or service.
Infographics can be defined as a way of representing your thoughts and ideas through images. It plays a major role in marketing and creates the interest of the audiences. They are easy to understand and retention of information is also easy. Some of the importance of infographics for business:
1. Convincing and appealing
Visual representation of information is more loved by the people and convinces them to stick to the product or service. Content in the form of charts, graphs, etc. seems more meaningful to people and it is more relatable to them.
2. Extensive coverage
In today's time when everything is just one click away online presence is seen everywhere thus, infographics can provide global coverage rather than print media.
3. Raise in the number of traffic
Visuals containing the brand logo creates an impact on people's mind. When the visual of your brand is displayed again and again it acts as a hammer on the mind of the audience and they remember your brand which increases the traffic.
4. Improve Search Engine Optimization
Infographics are attractive and more appealing to the audiences which makes them visit your site, again and again, resulting in your page ranking on google.
5. Conveniently scrutinized and retained
Human beings are profoundly visual and our brain retains visual information more than text information.
6. Exhibit the in-depth understanding of the subject
The analysis and knowledge needed to create an infographic that demonstrates the knowledge and skills one has on the subject. Creating the right infographic which conveys the exact meaning is a demanding task.
How to use Infographics to generate leads from your website?
1. Pass down certain offers with Infographics
Your audience some other fringe benefits along with the content or information you are providing them. Try to manifest what are the benefits you are offering them. Notify them how your product or service will their difficulties, what is an integral part of the product or service, how it is different from others.
2. Write down the article or blog describing your infographics
Magnificient infographics need their description along with itself. Infographics need a place where they can be hosted, the impeccable place to host your visuals is the blog or article. This does not mean that there is a need to write a number of pages for the visuals, small paragraphs which is to the point and suffice the need is enough.
3. Infographic sharing should be accessible through social media
The visuals should be accessible to a large number of people. The maximum sharing of the infographics through social media numbers will help in the more lead generation as nowadays the majority of people are using social media.
4. Add call to action with your content
The completed form of a call to action tells you the number of leads generated. It helps the audiences to connect with you and to clear out any query which they must have.
How to display infographics on the website?
For the effectiveness of the infographics or let us say to complete the job of infographics it should be well structured. It should not need texts to describe what it is trying to convey it should be self-explanatory. Sometimes the need for texts may arise but the content should be short and precise. Simple and short content maintains the interest of the audiences and helps them to interpret things easily. At the end of the infographics try to conclude it by providing a summary to your visuals by highlighting the major points of the visuals.
Infographics do not need any textual content or graphics every time to go with it. If the infographics are backed with content or graphics ensure that they are best in its quality then only it can be helpful for any business. Infographics play a major role in business to work with SEO; they are an important way to access link building. It helps in getting likes and shares on social media platforms and to attain traffic and build brand awareness. It also directs people to your websites directly. If executed correctly the content can go really viral.
Conclusion:
Infographics is a prominent marketing tool to be conscious about and make use of it for your website. If you have never tried to implement it in your business and for your website then make sure you implement it once and analyze the differences in your business growth by yourself. There are several website companies that help you to handle your websites and create infographics for it and we are one of the emerging companies in this. Don't stay back to enhance your content with infographics and bring the change for your business.