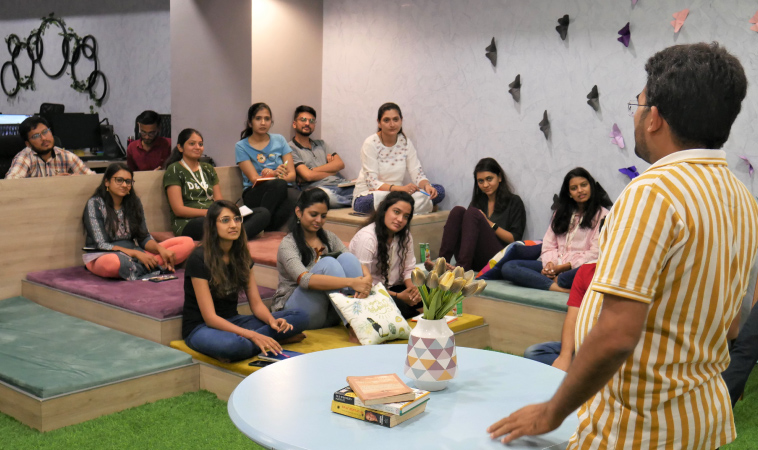 Don't shy away. Shine in your way.
In 2018, Google started with an initiative named #iamRemarkable, to empower women and underrepresented groups to celebrate achievements in the workplace and beyond. At Ideatick, we conduct Remarkable Fridays on the last Friday of every month. This ritual has been in practice since 2020. Every employee is given a platform where they can share their professional or personal achievements.
Our main goal is to improve the self-promoting skills of every employee and change their perception of self-motivation. This also acts as a platform for the employees to represent themselves, who struggle to come up and share their accomplishments. Lack of opportunities or stage fears is a few of the reasons which prevent them from acknowledging their achievements and expressing themselves. During this gathering, employees learn the importance of self-promotion and acknowledgment in personal and professional aspects. When they discover how to speak about their achievement, they feel a sense of confidence boost and persuasion.
Many people tend to fail to appreciate the things we did successfully. But we always criticize the times associated with failures. Through self-acknowledgment, we alter our minds to note more about our capabilities. This way, we program ourselves to collect more evidence of our success and create more positivity in life. As our belief system is strengthened, we grow more confident and self-motivating. With the boom of social media, the need for recognition has seen a hike like never before. It developed further and now is linked to the employee satisfaction workplace. The first step towards satisfaction starts with self-acknowledgment and appreciation. Without it, one might feel disconnected and confused about their ability.
Self-praising also creates a positive healthy work environment, where the members feel confident to speak and open up about their challenges and how they dealt with them. This also helps in collaborating better as a team and facing problems more innovatively. This exercise is critical for the newbies especially, When they are just starting out in a new place, getting acknowledged makes it easy and comfortable for them rather than being lost and leaving them demotivated. Through this, we train ourselves to celebrate our progress no matter how small or big, and change our inner dialogue. We broaden our perspective and feel more confident.