How video content influence social media marketing strategy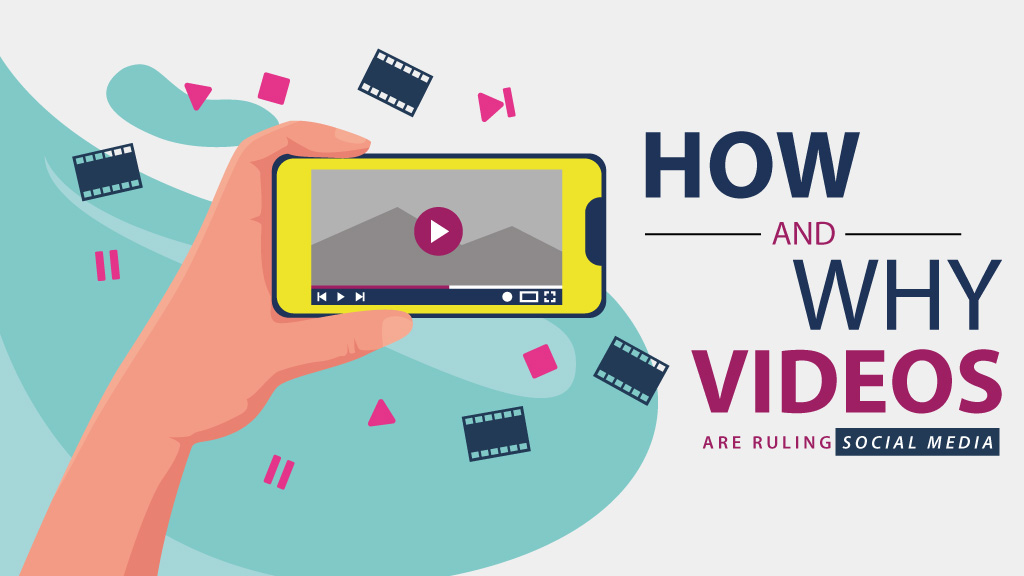 Technology and search engines are emerging as one of the development factors, and so are the strategies marketers using it to engage the attention of audiences online. Staying on the up-to-the-minute trends in video content marketing is the only way to stand in the competition. One of the extensive dilemmas encountered by the marketers is how and what kind of video content should be used and how to use it effectively to inflate ROI and be ahead over competitors.
When we talk about audiences they feel fatigued and their interest in the content decreases when it is in the paragraph. Video content seems interesting and it retains the attentiveness of the customer. Video content is giving its best shots on social media platforms.
Nowadays, the majority of the brands are exercising the choice of video content for their business growth and to increase online reach. As social media is becoming prominent there is an enormous transformation in marketing efforts. Earlier strategies failed to give results and social media took over the market. To be in the market businesses need to opt for social media platforms and come up with the content that the audience finds relevant and beneficial.
If you see social media presently it is not just filled with content sometimes it seems like it is overfilled with content. It is not wrong to say that today's social media is overloaded with content which does not hold any value to the audience, the foremost way to engage the audience is to produce unique and exhilarating content. You should have the urge to create content that engages, gratifies and informs the audience, and the video content just happens to be the leading medium to pull off that.
Statistics make it visible that 55% of people watch videos online daily, and social media videos give rise to 1200% more shares than texts and images integrated together. This reflects that video content marketing is climbing up the stairs presently. It can be one of the prominent reasons for Facebook and Instagram to integrate the "stories" feature in their features. The reach of video content is magnificent, and they can't afford to be a failure on all of that traffic.
It is a myth that creating video content for social media requires a huge budget and only specific businesses can create video content. Any organization can create video content as their comprehensive marketing strategy. The business just needs to evaluate what is the objective and the plan of action to achieve those outcomes. Some of the video creation tools are Adobe Premiere Pro, Movie Maker, Pinnacle Studio 23 Ultimate, Filmore.
Creating distinctive, interesting and engaging video content becomes effortless if the objective is well identified. Video content must comprise a straightforward brand message, product reveal, customer review or any other information that may be constructive to your potential customers. HubSpot's study manifests that 54% of consumers would prefer to see more video content from the brands they follow.
Some people may be of the opinion that they need to hire a video production team, but that's a complete illusion, you can go in for video marketing content making with the use of smooth and transparent online tools to advise you for creating videos. Video content is impressive and influential and works in diverse ways so there is just one need to produce distinctive content and engage the audience.
Why Video Content Is Important?
1. Videos can generate some serious wealth. Incorporating a product video on your landing page can escalate conversions. They have a huge impact on sales. Studies have displayed that 74% of users who watched an explainer video about a product consequently purchased it. Vision is our effective sense. So by visualizing things or by having a look at visual things boost engagement massively.
2. Videos generate more ROI, 83% of businesses say video come up with a favorable return on investment. Creating a video is neither easy nor cheap but it pays big off time. Online video editing tools are continuously upgrading themselves and becoming economical.
3. The video should explain the product and services and it is not necessary to produce a video of high quality and exclusive design which does not explain the product or service.
4. Trust is the base for conversions and sales. Building and maintaining trust is a target on its own, it can't be treated as a secondary objective. The complete marketing and its strategy is dependent on trust and establishing deep-rooted relationships. You should not focus on selling, focus on upholding trust and building interesting and valuable information. Video content engages us more and triggers our sentiment and reaction. Nowadays Youtubers have the most influence on audiences and are the most dominant social media platform to promote your brand.
5. Videos help you to be on top ranking of google search. It stimulates visitors to spend more time on your content. Hence, spending more hours build trust between you and your customers and indicates search engines that your site has high-quality content. It is essential to optimize your videos for SEO and provide intriguing titles and descriptions.
6. Making use of video in marketing will upgrade SEO ranking and increases the chance of your content to be on the front page.
Conclusion: Video marketing is a mode in which you collaborate video and audio to communicate your brand message to the target audience. It is an integral element of marketing because video connects with audiences in a way that words cannot. Some organizations are not willing to opt for video marketing as they have a perception that it will be expensive or too problematic, but this is just a myth. Video marketing does not include a higher price nor it is time-consuming.